Home -> Cribs -> Cribs Buying Guide


Cribs Buying Guide
DaVinci Crib
DaVinci Crib - All Styles like Covertible, Mini, Emily & Kalani for Your Baby
Buying a DaVinci Crib by MDB is all about creating safe, soothing, and serene furnishing for every family. They take a certain pride in their baby cribs, because they believe in nothing but the best for the newest member of your family – your baby!
DaVinci cribs feature construction from sustainable Asian or New Zealand hardwood, and they've been applied with a non-toxic finish that's BPA and formaldehyde free. For a safe, healthy, and happy baby, why not give them a place to sleep with Cribs by Da Vinci?
Da Vinci's main crib feature is the convertible option. Convertible cribs are built to transform into a bed when your baby is old enough to sleep in one.
You end up saving money in the long run because you won't have to purchase a new bed for your growing toddler. Depending on the amount your bed can convert, you may not need to buy your baby a new bed until college! Take a look at the different kinds of convertible cribs that you can choose from:
DaVinci Crib 2 in 1 Convertible
From a crib to a twin bed, the 2 in 1 convertible crib is ideal for when your baby starts to grow up.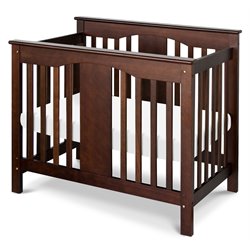 The Annabelle Mini 2-in-1 Convertible Baby Crib has an undeniably modern look with its espresso finish and little detailing.
You can also choose from a white or ebony finish. It features an adjustable mattress height so as your baby grows, you can lower it.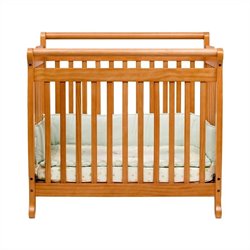 There's also the Emily Mini 2-in-1 Convertible Baby Crib, which comes in six different finishes. It has more of a traditional look, and comes with a 1" thick waterproof sleeping pad.
DaVinci Crib 3 in 1 Convertible
3 in 1 cribs give you the option of converting your crib into a toddler bed with a safety rail, or a day bed.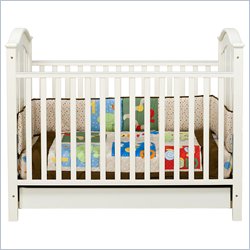 Try the Roxanne 3-in-1 Convertible Baby Crib in white, espresso, or ebony.
Take a look at the Roxanne Davinci Crib Set as well if you want to buy a matching changing table with it. The curved headboards call for dramatic attention, and the sides feature teething rails for when your little one starts to chew.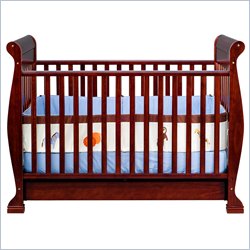 Another option is the Anastasia 3-in-1 Convertible Baby Crib and Crib Set. It's available in oak, cherry, and espresso, and has a dainty sleigh style to it. For extra storage space, it features two drawers in its base.
DaVinci Crib 4 in 1 Convertible
These DaVinci Convertible Cribs are the most popular because they can convert the highest amount. 4 in 1 models go from a crib, to a toddler bed, to a day bed, and then to a full-sized bed for when your baby becomes a youth.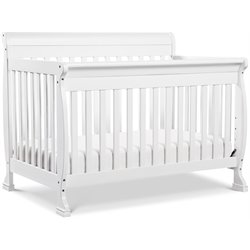 The DaVinci Kalani 4-in-1 Convertible Baby Crib is very popular crib and also comes in DaVinci Kalani in Espresso and DaVinci Kalani in Ebony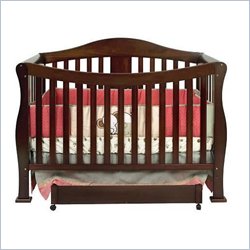 The Parker 4-in-1 Convertible Wood Baby Crib has a classic appearance and comes in five various wooden finishes.
It is also available in a Crib Set that features a matching changing table. The curve in the middle of the main rail gives you better access to reach your baby in the crib.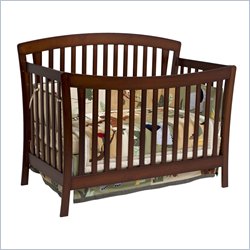 You can also choose from the Rivington 4-in-1 Convertible Crib. It has a unique curved out shape that would transition well throughout the years as your child grows up. Choose from white, oak, coffee, or cherry finishing.
If a convertible crib isn't what you're looking for, Da Vinci also has a spindle crib model.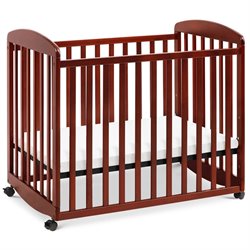 The Alpha Mini Rocking Baby Crib comes in cherry, oak, white, or natural finishing, and is smaller in size for homes that are low on space. It features rolling casters for easy mobility, and can be used as a rocking cradle to soothe your baby.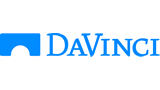 Every DaVinci crib manufactured is JPMA certified, meaning that the products have been rigorously tested to ensure safety and quality. You won't be skipping out on safety or quality (or style) with a baby crib from Da Vinci!
Still need help with your baby crib call our customer service team at 1-866-740-9830