Home -> Conference Tables -> Conference Tables Buying Guide


Conference Tables Buying Guide
Conference Tables: Comparing the Different Shapes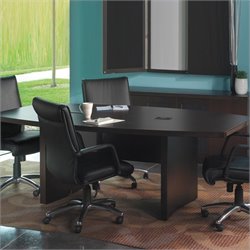 The distinctive character and professional image of your boardroom will largely be determined by the shape of conference table. The most common shapes for conference tables are rectangular, boat-shaped and racetrack. For larger sized boardrooms, consider a conference table with a more elongated profile like a rectangular, bow tie, boat-shaped, racetrack, or 8-shaped conference table.
For a classic look that will never go out of style, choose a rectangular conference table. On the other hand, the boat-shaped conference table has a sleek, contemporary vibe. If your meeting room or boardroom is smaller-sized, round, square or octagonal conference tables are good alternative choices. Regardless of the shape of the conference table, you don't want one that is too large or too small for the space. The conference table should proportionately fill the center of the room and look balanced.
The Rectangular Conference Table
Rectangular conference tables have a simple, classic shape that is adaptable, functional and stylish. Because the tabletop is a basic flat shape, the work surface is suitable for other applications such as meeting rooms or training rooms or a combination of both. Depending on the length of the table, rectangular conference tables can typically fit an average of six to 12 chairs.
The Circular Conference Table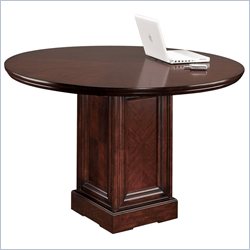 For a smaller sized conference room or for a conference area in an executive office, circular conference tables are ideal since they tend use the available floor space in a room vertically (up) instead of horizontally (out). Especially if the circular conference table has a column pedestal base, it can be an economical choice, space-wise. While the circular conference table is perfect for a small conference room, other geometric shapes like the square or octagon, would also suit a smaller sized boardroom.
The Boat-Shaped Conference Table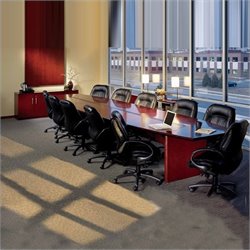 A boat-shaped conference table, with its distinctive shape, has a trendy and upbeat appearance that is suited more contemporary or modern styled meeting rooms or boardrooms. While boat-shaped conference tables come in a variety of sizes, they are ideally suited to larger spaces, rooms that can easily accommodate a 48" conference table or even longer.
Some types of boat-shaped conference tables, like the Mayline conference table is large enough to easily fit 16 18 office chairs and includes a built-in cable management panel.
The 8-shaped Conference Table
Another shape that exudes professionalism and style is the 8-shaped conference table, also known as the figure eight conference table. ABCO has a stunning profile, making it visually interesting. It has 20 different laminates to choose from. It's six feet long and ready for your business meeting.
The Bow Tie-Shaped Conference Table
Bow tie-shaped conference tables have a shape that is eye-catching, helping your meeting room or boardroom to stand out. Depending on its length, it can accommodate six to 12 chairs. Like the rectangular conference table, the bow tie conference table demonstrates class, with a little bit of edge, for that perfect blend of style and professionalism.
The Racetrack Conference Table
Racetrack conference tables, also called oval conference tables, are very attractive to look at. Pleasing to the eye with their rounded edges and sleek lines, as with other types and styles of conferences tables, many manufacturers will offer the same model of the racetrack conference table in a number of sizes and finishes. This allows you to find the look and appearance best suited to your meeting room or conference room.
The Modular Conference Table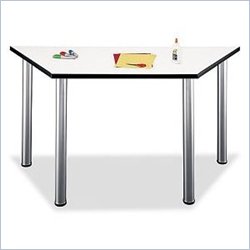 Modular conference tables are also known as meeting or training tables. Manufacturers like Bush, Mayline and OFM offer a line of tables in a number of shapes and sizes. These tables can be combined together and configured to meet the existing or future needs of your meeting room, boardroom or training room. Modular conference tables have an adaptability and functionality are well-suited to a business environments that are constantly changing and evolving.