Home -> Computer Desks -> Computer Desks Buying Guide


Computer Desks Buying Guide
Computer Armoire Styles

Not sure what style of computer armoire will work well with your existing décor? To avoid purchasing an armoire that won't match your current furnishings, here's a quick decorating tip to keep in mind. Select a computer armoire in a light to medium finish for a contemporary look but one with a dark lustrous finish for a more traditional feel.
A traditional style computer armoire has a stately and graceful appearance that is timeless. Traditional furniture is typically made of wood. Common characteristics of traditional computer armoires and home office armoires are crown molding, scroll, acanthus leaf and shell motifs, rich finishes that can be satin or distressed and intricately carved, decorative accents.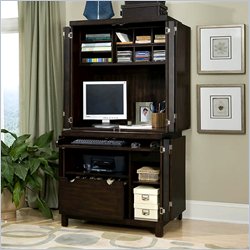 Contemporary style computer armoires emphasize form and function. While they can include decorative detail, it is pared down and kept to a minimum. Contemporary style computer armoires can be visually interesting with their use of different textures like leather, wood and metal hardware, in the same furniture piece. Lines are straight and clean, use of geometric shape is common and edges are sharp.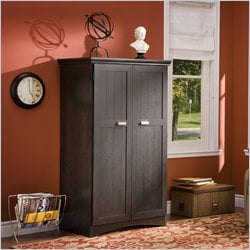 Country style computer armoires are charming, rustic or casually sophisticated. Decorative detail can include beadboard insets, distressed finishes, scalloped aprons and skirts, turned legs and simple hardware, especially round drawer pulls made of wood. While country style uses many traditional style decorative accents such as moldings, scrolls and motifs, lines and curves are relaxed, resulting in furniture that is casual, unpretentious and inviting.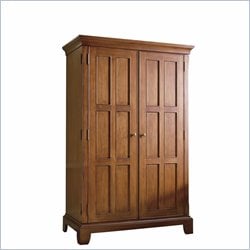 A Mission style computer armoire possesses an ageless simplicity. Profiles are angular, lines clean and straight and decorative detail is very simple with no carved, embossed or engraved elements. Because Mission and Shaker styles resemble each other so closely, they are often used interchangeably, even though Mission emerged around the early 1900s while Shaker first appeared during the 1700s. The most distinguishing feature of Mission style is its slatted wood detailing paired with a warm wood finish.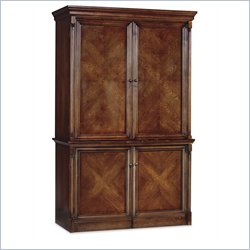 It could be said of transitional style that it is traditional style simplified. It is blend of both traditional and contemporary designs and decorative elements. A transitional computer armoire has refined decoration, softly flowing lines and tapered table edges and legs. A popular finish for transitional furniture is espresso, while maple, mahogany and walnut are commonly used woods.Computer Desks and More has a great selection of computer armoire