Home -> Cribs -> Cribs Buying Guide


Cribs Buying Guide
Collection Guide: DaVinci Cribs

Million Dollar Baby's Most Popular Brand: DaVinci
DaVinci baby furniture is one of the most popular baby brands in North America, particularly well known for high quality and traditional style, with a modern twist on design and materials. Produced by the Million Dollar Baby (MDB) company, DaVinci is part of a design family including the popular brands Babyletto and Nurseryworks.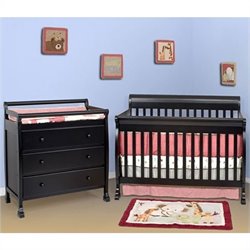 DaVinci collections include:
Within these collections, you'll find 4-in-1, 3-in-1, and 2-in-1 crib designs, as well as changing tables, changing table dressers, chests and dressers, cradles, bunk beds, toddler beds, and compatible conversion rails as needed. DaVinci baby furniture comes in finishes of black, cherry, chocolate, espresso, natural, oak, and white. Style variations incorporate arches, banisters, casters, handrails, moldings, different slat widths, sleigh edges, handrails, and more.
DaVinci's Kalani pieces are currently their most popular collection. The collection includes a convertible crib, changing table dresser, and a 4-drawer dresser with optional hutch.