Home -> Coffee Tables -> Coffee Tables Buying Guide


Coffee Tables Buying Guide
Coffee Tables for Your Life and Your Style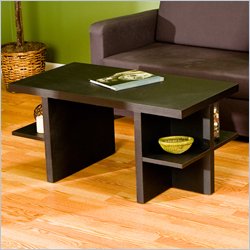 The choices we have for design and material in contemporary coffee tables are very literally endless. You could browse for days or even weeks viewing every round coffee table, black coffee table, and all the other coffee table furniture on the market. Try a few quick tips to save your time – and hopefully a little money!
Ask yourself how many functions you need or want your coffee table to serve. Are you furnishing a tight urban apartment and need storage features? Or are you in a spacious suburban home that can accommodate a wide round coffee table paired with a crescent sofa table?
Is budget a factor or is the sky the limit? Starting with your most important variable, whether it's cost, material, style, or brand, your first decision can help you narrow the selection of coffee tables immediately.
Virtually Bring Your Coffee Table Home
You're probably shopping for a coffee table that will coordinate with your existing interior décor. To help you picture different cocktail tables and coffee tables in your own home, look through the manufacturer's photos carefully.
Top brands like Southern Enterprises, Magnussen, Nexera and many others stage their coffee tables in professionally designed rooms, expertly coordinated with the right furniture. Although you aren't likely to find a match for your own living room, these photos can get you thinking. What style of coffee table can complement my style of couch? Which color will work with my walls? Will this black coffee table go with my hardwood floors, or should I opt for brown?
If you're redecorating from scratch, you might want to select your favorite anchor piece of furniture, be it a large entertainment center, a broad and sturdy round coffee table, or a striking designer couch. From there, your coordinating paint, wall art, and flooring choices will be narrowed substantially. Start with the right coffee table and your room might just decorate itself!
Entertain with Fashionable Cocktail Tables
Do you like to hold lively dinner parties? If your space can accommodate one of the larger cocktail tables available, your group can comfortably enjoy conversation in the living room before or after dinner as suits you best.
Consider an exclusive lift top coffee table with an insert that folds up to add a temporary second tier to your coffee table. Your guests will be delighted and impressed by your clever design choice.
Accent with A Sophisticated Sofa Table
Take the opportunity to also coordinate your coffee table with a console or sofa table and create a truly tasteful room. If you choose a sofa table with drawers or a cabinet, you'll have handy storage for books, movies, and magazines, as well as the table's display surface for vases and treasured photos.
You might want a sofa table for your entryway, hallway, or any open space that feels too bare. Be careful that you measure your space before making the choice to add a sofa table to avoid crowding a room.
Whether you've decided on one coffee table or you're planning a set with end tables and a sofa table, choosing your features early on will make browsing much more manageable.

With today's selection, setting those parameters won't mean giving up style or quality.