Home -> Conference Tables -> Conference Tables Buying Guide


Conference Tables Buying Guide
Choosing a Conference Table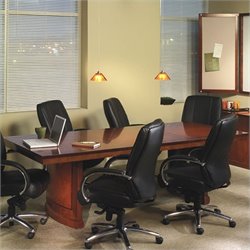 Like people, conference tables come in all shapes and sizes. Each one comes with a different personality and different look. For large boardrooms, you can choose between rectangular, bow tie, boat-shaped, racetrack, or 8-shaped.
The Rectangular Conference Table
If you want a traditional look, go for a rectangular conference table, a classic shape that will fit a large conference room nicely. Rectangular conference tables can fit from 6 to 12 chairs at each table, depending on the actual length of the table.
The Circular Conference Table
If your office has antique furniture with character, this circular table would be a nice addition. The circular conference table is perfect for the smaller conference room, but other smaller shapes, like a square or octagon, would also suit a small boardroom nicely. Kathy Ireland Home is a popular brand as it includes the regal-inspired circular conference table for the traditional and classic business.
The Boat-Shaped Conference Table
If your business is new and fresh, a boat-shaped conference table would be a great choice to exude the innovation of your new business. Boat-shaped conference tables not only look great, but they fit a lot of people as well. An 18-foot Mayline Corsica conference table can easily fit 16 to 18 chairs and comes with a slab base and a built-in cable management panel.
The 8-shaped Conference Table
Another shape that exudes professionalism and style is the 8-shaped conference table. ABCO has a nice figure and has 20 different laminates to choose from. It's six feet long and ready for your business meeting.
These two shapes can fit from 6 to 18 chairs around the table. Racetrack conference tables are also a classic look.
The Bow Tie-Shaped Conference Table
Bow tie-shaped conference tables can also fit 6 to 12 chairs at each table. Like the rectangular conference table, the bow tie conference table demonstrates class, with a little bit of edge, and shows off style and professionalism.
The Racetrack Conference Table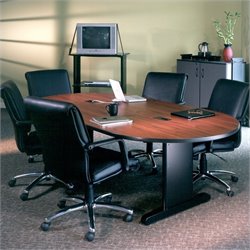 If you don't like the trestle base, ABCO's racetrack (oval) conference table has a stylish slab base instead. It's six feet long and can be ordered smaller if needed. This ABCO table comes with a strong laminate top that has unbeatable protection. It can also be ordered with a different base just in case you don't want a slab base. It can come in slab, curved, curve plinth or designer metal legs. Choose the one that best fits the design and style of your company.
The Modular Conference Table
Modular conference tables are also known as meeting or training tables. These tables can be put together and sized differently and proportionally to the size of your meeting. These tables are good because you'll never have an oversized table. Modular conference tables have a lot of style and professionalism associated with them.