Home -> Recliners -> Recliners Buying Guide


Recliners Buying Guide
Buying the Right Recliner for You

A recliner is the ultimate type of armchair you could own, designed to provide maximum support to your body while you put your feet up. Like the standard armchair or comfy club chair, recliners come in many different types and kinds, available with a variety of different feature combinations. Which one will be the right recliner for you?
The Recliner should Fit You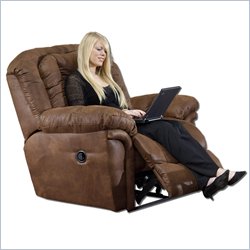 When shopping for recliners, look for one that lets you sit comfortably, with your feet flat on the ground, thighs parallel to the floor, head centered over the shoulders and back fully supported. The perfect recliner for your body type should allow you to sit upright with your lower spine fully supported by the backrest. The recliner should also gently cradle your shoulders and neck, both when in an upright or reclining position. If you do find a recliner that you just must have, but it isn't an ideal fit, you can select one with a stationary ottoman. This will let you position the ottoman exactly where it needs to be to take the pressure off the backs of your legs, one of the first places to experience discomfort when a recliner is not supporting you like it should.
If you're big or tall or big and tall, big man recliners are good value for your money. Many manufacturers offer oversized recliners that are comparable in price to their standard sized counterparts, but are designed to be more durable; constructed with heavy duty materials, extra-strength fabrics and reinforced frames and seams.
The Recliner should Fit the Room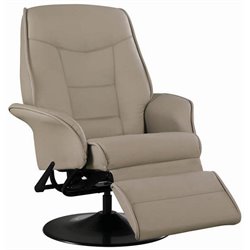 Even though the recliner will be in a class all its own, you still don't want it to stick out in an obtrusive or unsightly way. A casual contemporary oversized recliner, while very comfortable, might look a little out of place in a more traditional or formal living room. Match the style of the recliner you'd like to purchase to the style of furniture currently in the living space.
The corners of rooms like dens, family rooms, home theaters and living rooms are "custom" made for recliner chairs. Position a recliner or leather recliner in one corner of your living room or den and pair it with an end table or side table and a lamp, and you'll have the ideal place to relax after a busy day. Keep in mind that the standard recliner needs approximately six inches of space from chair back to wall to be able to fully recline. Even if you purchase a zero clearance recliner or wall-hugger recliner, plan on giving it a bit of breathing space.
The Recliner should Fit your Lifestyle
Since recliners, like Mac Motions recliners, are available with a variety of different designs and features, make sure that the recliner you are interested in buying fits all of your needs, especially your lifestyle. If you're buying your recliner for the family room, a swivel recliner might suit you best, allowing you to position yourself comfortably wherever the action is, whether that's the television or a little one showing you what they made in class.
Want you're recliner as someplace really comfy to watch TV or read a book? Then select a recliner that has a magazine pouch and/or a remote organizer.
Some manufacturers like Global Furniture USA offer recliners that have massage/heat capabilities.
Take the time to do a little investigating to see what's out there; when you're relaxing in your new recliner with all of the features that makes it "your" chair, you'll know it was worth it.