Home -> Computer Desks -> Computer Desks Buying Guide


Computer Desks Buying Guide
Buying the Right Computer Cart

If you have no room for a home office and you really need a place to work at your computer, a computer cart could be just what you're looking for. Even in academic, school, industrial or business environments, computer carts can efficiently use space, increasing functionality by allowing you to set them up in one area for one purpose and rolling them to another area for a training session or workshop. Since computer carts come in a wide range of different sizes and styles, including commercial or industrial computer cart models, consider what type of computer cart will best suit your needs.
Computer Carts at Home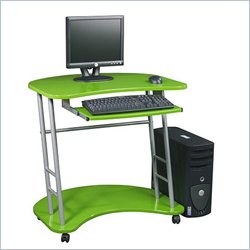 A computer cart combines the compactness of the corner desk with the functionality of a standard computer desk, but with wheels attached. Mobile workstations can be moved out of the way when not in use, so they are ideal for a teen's bedroom or a family room or even a kitchen where young school age children can be in your line of sight when using the computer while you're preparing dinner.
Decide who will be using the computer cart on a regular basis. This will help determine what features you want the wood computer cart or metal computer cart to have.
The appeal of a computer cart is of course its mobility; but still get out your tape measure. You want to have some sense of how much space you have to work with to ensure that you don't end up with a workstation that is too unwieldy or is just too big.
Computer Carts in the Workplace
Computer Carts are designed for functionality, mobility and adaptability. Take into consideration where and how you will be using computer carts and mobile workstations.
Computer carts in a boardroom, conference room or training lab are ideal for presentations or workshops.
Metal computer carts are ideally suited to industrial environments such as workshops; academic and school spaces like computer labs and libraries; and office settings, including doctors' offices and dentists.
Particularly in different business, industrial and school environments, the advantages of adjustable computer carts are numerous. The height of the desk area of the workstation can be easily adjusted to accommodate someone in a library standing at a computer looking up information or several people in a business office sharing one computer cart workstation.
Labs, medical and dental offices and industrial work environments can easily make use of the convenience and mobility a computer offers. Mobile computer carts allow you to bring your computer to wherever it's needed.
Computer Carts for Work or Home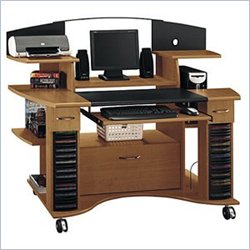 Whether it's made of wood, like cherry computer carts, oak computer carts or light wood computer carts, or metal, select one that has user-friendly hardware, including locking casters.
Since mobile workstations come with a number of features in different configurations, consider which ones will best suit you.
When purchasing a computer cart for a child or one that will be used by two or more people, an adjustable computer cart will be able to accommodate the different heights each users needs in order to be comfortable while working.