Home -> Bedroom Sets -> Bedroom Sets Buying Guide


Bedroom Sets Buying Guide
Buying Platform Bed Sets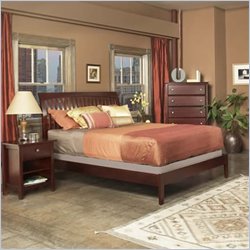 A bedroom should be designed to be restful, rejuvenating and refreshing. If it isn't, it might end up being cluttered and generally just not functional or esthetically pleasing. When decorating a bedroom, a wood platform bed is a great way to make a room look more spacious, whether you're short on floor space or not, because the bed typical has no footboard and the bed itself is lower to the ground than a standard bed. Platform beds are designed to be used without a foundation like a box spring. Since you will only need to buy a mattress, a platform bed is very economical. Platform bedroom sets are even more economical.
Platform bedroom sets are a great way to get what you need without having to spend time matching each bedroom furniture piece separately. This is because a platform bedroom set is designed to be in scale (the nightstand is sized to "work" with the bed and/or the dresser), have a uniform color and be the same style. Platform beds, especially metal platform beds are commonly linked to contemporary and modern styles because of their spare appearance and clean lines. However, manufacturers offer platform beds and platform bed sets in a variety of styles including traditional.
Size – Room and Bed
Even though a platform bed generally tends to make a room appear larger, it will still need adequate floor space, especially if you would like to purchase a queen platform bed or king size platform bedroom set. Give some thought to the mattress size you would like: if you intend on keeping your current mattress you will need to buy a bed that will match it; if you intend on getting a new mattress, this might be the time to buy a larger sized bed that will give you more personal sleeping space. Take measurements so that you know just how much space you will be working with.
The Platform Bedroom Set
Manufacturers typically offer platform bedrooms sets in collections that often come with a choice of what type of bed. Determine the number of pieces you want in your platform bed set and what type of bed will be most useful to you. Platform bedroom sets can include a bookcase headboard platform bed, a canopy platform bed, storage platform bed or a sleigh platform bed. With most platform bedrooms sets, the mattress must be purchased separately. But the good news is, unless otherwise specified in the manufacturer's product information, platform beds don't need a foundation like a box spring for example. Particularly when decorating a smaller sized bedroom, a 3-piece platform bed set will provide you with the basics, such as a platform bed, storage drawers and a nightstand or a platform and two nightstands.