Home -> Dinette Sets -> Dinette Sets Buying Guide


Dinette Sets Buying Guide
Buying Guide of Hillsdale Dining Set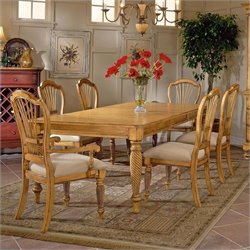 Nothing sets the mood for a memorable dinner like a strong dining room table. The right table can make an impression your family and guests will appreciate. Hillsdale dining room sets start with a great table and include coordinated chairs for a welcoming dinner space.
When you add a dining room set to your home, you're not only adding style, you're creating a meal-sharing space your family can gather around to focus on each other. Hillsdale dining table sets mean your family will sit down to dinner and talk to each other instead of gapping out on television. Ensure your loved ones have the space to reconnect in when it's time for dinner.
Hosting dinner parties will be a whole new experience with a Hillsdale dining set. Seat up to 8 at your main table, but purchase extra chairs and a smaller matching table to make holidays and special events a stress-free experience. Whether you want your dining room to convey cottage comfort or refined ambiance, Hillsdale provides the selection of dining room table sets to meet your needs.
Dining Room Table Sets for Your Style
The opportunity to express yourself with your home décor is one many homeowners relish. One of the most noticeable style choices is the furniture in your dining room. Hillsdale dining room table sets come in an array of styles and finishes that can help you make any statement, from bold and dramatic to understated and cozy.
For the stronger personality, look for dining room sets in finishes like mahogany or dark cherry and long tables complemented by high chair backs. If your room needs a softer touch, try pine or maple and rounded chair backs that reach shoulder height when a person is seated. Your chairs can be upholstered, plus the legs of tables and chairs can have detailed banister carving.
Minimalists will want clean, simply elegant design in black, white or another solid finish, while traditionalists and antique-lovers are looking for rich grains in oak or cherry wood, featuring intricately beautiful carvings. Hillsdale has a dining room table set for those tastes and everyone in between. Coordinate with a matching china cabinet or console table for a dining room you'll be pleased to host guests in.
A Hillsdale Dining Set for Your Kitchen
Many modern homes steer guests towards the kitchen as the central social space, forgoing a dining room or using that space for another purpose. To work nicely in your kitchen, Hillsdale dining sets are available in less formal styles. You'll be able to complement trendy granite and stainless steel or distressed white shabby-chic kitchen cabinetry without taking up too much space or imposing on the room too forcefully.
No dining room? No problem. Hillsdale offers smaller dining table sets to accommodate compact urban living spaces. If you're looking for a stylish set for your tight kitchen-adjacent space, you probably don't plan to host large dinner parties. You might want to consider bistro style dining sets for 2 that don't sacrifice quality when reducing in size.
For wherever you want to dine in your home, selecting the right Hillsdale dining table set makes the difference between merely adding a table and chairs and thoughtfully creating a dining space to love.