Home -> Strollers -> Strollers Buying Guide


Strollers Buying Guide
Buying Baby Furniture: What You Need to Know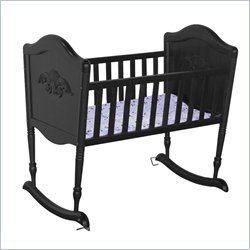 If you have a baby on the way, or you're taking care of a newborn, the proper baby furniture is essential for both the parents and the baby. Decorating the nursery with the proper baby furniture will give you a leg up when it comes to successfully raising a child. So what do you need to ensure your baby has the best upbringing possible?
Baby Cribs and Baby Cradles
A great crib or baby cradle is the fundamental piece of furniture in any nursery. When it's time for sleep and the baby isn't in your arms, you want to make sure that your little one is safe and secure while they slumber.
A baby cradle is a classic piece of furniture that rocks and sways, which will soothe your baby and help them sleep. Add a cradle mattress and blankets, and your baby will be asleep and dreaming before you know it. Baby cradles are only recommended for babies up to six months, or once they learn sit up or pull themselves into a sitting position. A bassinet is a mini-bed for babies, but like a cradle, they have a small window for when they can be used (newborn to four months).
A crib is the standard piece of sleeping furniture for your baby, as it is fit for newborns and has a longer shelf life than a cradle. Look for convertible cribs that can be transformed into a toddler bed or day bed to extend the life of the crib even further. Crib mattresses and crib sets are also something that you may want to look into if A) your crib didn't come with a mattress and B) you want a crib/changing table combo.
Changing Tables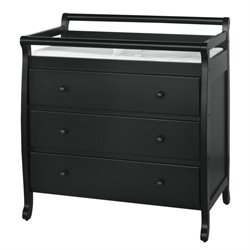 Changing tables are a functional piece of baby furniture that will make a parent's life so much easier. While it's possible to change your baby using blankets on the floor or on the couch using a changing pad, a changing table offers a safe and secure place to change your baby. Look for a changing table that comes with safety straps and or safety rails that will keep your baby secure during the change.
A changing table also benefits the parent, as it provides a comfortable place for changing. Unlike when you change a baby on the floor or on the couch, there is no unnecessary bending or straining of the back. Look for a changing table that reaches to about your waist, as this is a comfortable height that won't tweak your back. If you're concerned about what you'll do with a changing table once your baby is potty trained, many changing tables can be turned into desks or drawers.
Gliders and Rocking Chairs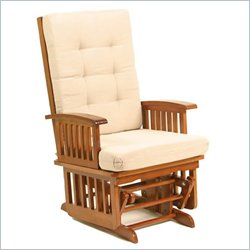 Babies love the feeling of rocking, as it reminds them of their time spent in the womb. A rocker is the traditional chair with two curved bands of wood attached to the legs that allow a rocking motion. A glider is a chair attached to tracks that give the chair a smooth, gliding motion. When purchasing either a glider or a rocker, make sure that the motion is completely smooth, without any sticky spots or stuttered motion. Also, the chair should be absolutely quiet as to not disturb the baby.