Home -> Bedroom Sets -> Bedroom Sets Buying Guide


Bedroom Sets Buying Guide
Buying a Platform Storage Bed

Wood platform beds are very simple in form, utilizing uncomplicated lines with straightforward, rectangular bed frames that typically stand close to the ground. They commonly use a modern or contemporary design. Since the bed is generally not as high as a standard bed, using a platform bed as the focal point will make the room appear larger and more spacious. An even easier way to make the most out of a small bedroom's available floor space is to select a platform storage bed. Not only does it make your room more functional, it is one of the easiest ways to organize a small bedroom. Having a functional and organized bedroom becomes even more important when a small closet is being shared by two people.
Platform Storage Beds
Many different types of platform beds include a variety of under-bed storage options, which make them welcome additions to rooms with space issues. Most types of under-bed storage include a number of drawers that slide out much like an oversized dresser drawer. The less common type of platform storage bed involves some kind of storage system like a number of boxes or one large box that is on casters and simply slides out from underneath. Platform storage beds are available in all of the standard bed sizes including platform bed queen and king sizes. A specific kind of twin size platform bed designed for children's bedrooms is called a captain's bed. Just like with regular platform beds, platform storage beds are an economical type of bed because they typically don't need box springs or any other kind of traditional foundation.
Platform storage beds are ideal for storing a variety of things such as linens, extra towels and bedding. Under-bed storage is perfect for clothes as well, especially if the room is small and closet and/or drawer space is at a premium.
Platform Storage Bed Features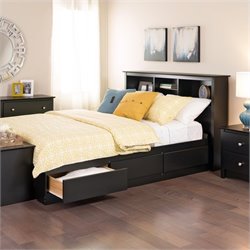 Platform storage beds come with a number of different features that address particular storage solution problems. They commonly include drawers on one or both sides of the bed. A platform storage bed can also come with drawers on the end of the bed as well as on the sides. This is handy for small rooms where you really need to maximize storage space. Give some thought to what you would like to store in your platform bed. Perhaps one row of storage drawers will be enough. But if you would also be able to tuck away seasonal clothing as well as bedding and extra linens, a wood platform bed with two rows of storage drawers will be a better choice for you. A storage platform bed might also include other storage features, like the bookcase headboard platform storage bed that will increase your organizational options.