Home -> Bedroom Vanities -> Bedroom Vanities Buying Guide


Bedroom Vanities Buying Guide
Bedroom Furniture: Vanities

Once used mainly as a place to store and put on makeup, the modern bedroom vanity provides you with a fantastic accent piece to the rest of your bedroom décor while offering you convenient storage space for all of your favorite belongings. Bedroom vanities are tremendously functional pieces of furniture that will become a regular part of your morning routine.
Bedroom vanities act as a morning hub where you can prepare for the day. Designed mostly for women or young girls, a bedroom vanity is the ideal spot for all of your personal items, from jewelry to perfume. Before you buy a bedroom vanity, here are a few things to keep in mind.
Vanity Size
The first thing you should consider is the size of the bedroom vanity that you want, which can depend on a few different things. Take a look around your room and decide upon a spot where you'd want to place the vanity. Take measurements of the area so you can get a rough idea of how big you can go. Next, consider how much storage space you're going to need. There's no point in finding a huge vanity if you have nothing to store in it.
If you're planning on purchasing a vanity stool or chair separately from the vanity table, make sure the size of the seat lines up. Generally, you should have 10" to 12" of space between the top of the seat and the bottom of the tabletop.
Vanity Function
Are you primarily looking for a bedroom makeup vanity? Do you just need storage space? Are you planning on using the vanity primarily as a mirror? Consider what the vanity's principal function will be, as you can tailor the vanity to your needs.
Vanity Style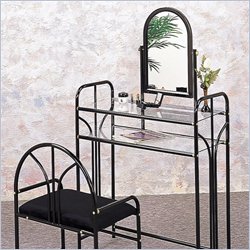 The style of your bedroom vanity should correspond to the rest of your bedroom. More traditional rooms are better suited for antique bedroom vanities that project a timeless, classic feel. Look for cabriole legs, leaf or scroll motifs, decorative carvings and other features that give off a warm and natural feel.
Contemporary bedroom vanities are known for their sleek and simple designs, and often will mix different materials for visually interesting pieces. Contemporary vanities are usually geometric, but will often incorporate curved lines. Modern bedroom vanities have signature angular shapes with sharp contrasting lines and asymmetrical detail. Materials consist mostly of metals and glass.
If you're really unsure, depending on the color scheme of your room, black bedroom vanities or white bedroom vanities can be a safe choice.
Vanity Features
While each bedroom vanity is unique, you can choose a vanity for the set of features it provides. Some vanities have more storage capability, while others have adjustable mirrors. Here's a list of common bedroom vanity features:
Drawers for jewelry and other collectibles; often come lined with velvet or soft material to avoid scratches and nicks.

A mirror. Some mirrors are set in place, while others can be adjusted for personal preference. Certain vanities come with 3-view mirrors that allow the user to see their profile from the front and back.

Shelves or cabinets for candles, perfume, accessories and hairbrushes.

A vanity stool or bench that matches the vanity stylistically.
Vanity Price
No matter what your budget, try to find a vanity table made from solid wood or other durable materials. You don't want a flimsy vanity, so find one that is durable and won't come to pieces. It's possible to find bedroom vanities for sale or quality discount bedroom vanities with a little bit of research.