Home -> Recliners -> Recliners Buying Guide


Recliners Buying Guide
How To Buy Recliners
How To Buy Recliners
Once thought of as strictly male territory, the classic recliner has definitely reached new heights in style and comfort – and is no longer the ultimate accessory for men alone. The recliner has also left the basement or den and is making its way into the front room or living room.
So how do you figure out which type of recliner you want to buy? With so many options available on the market these days, the following buying guide will cover the different styles, types, and materials to help you decide what recliner is meant for your home.
Buy Recliners What Size?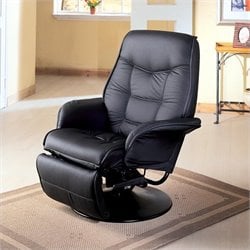 For apartment dwellers who are low on space, the Coaster Furniture Conroy Leatherette Recliner is compact when in sitting position, and less bulky than overstuffed fabric recliners.
You can also try the Mac Motion 52-1 Series Microfiber Recliner that takes up less room width wise and has a perimeter swiveling feature as well as tension control reclining option.
What about the oversized recliners for big and tall consumers?
Catnapper Recliners offers a selection of recliners that are ideal for individuals looking for something that's oversized and overstuffed. All of their recliners feature their Omega reclining system, guaranteeing a smooth and quiet recline, and the seat is constructed with strong steel to help your recliner last.
The Catnapper Goliath Swivel Glider Oversized Chaise Recliner has a swivel feature that actually turns 360 degrees so you can sit in it from any direction.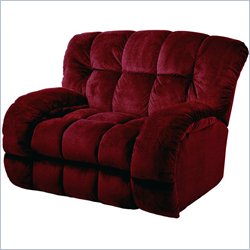 Another option is the Catnapper Softie Cuddler Inch-A-Way Oversized Chaise Recliner, which is almost double in size compared to other recliners. For those who have trouble getting in and out of a recliner,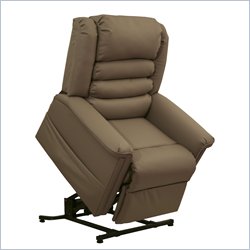 there's the Catnapper Invincible Power Lift Full Lay-Out Oversized Chaise Recliner. It has a mechanism that lifts you in and out of the recliner just by using the handle on its side.
Buy Recliners Pick the Right Design
Basic two-position recliners are a thing of the past – there are now glider recliners, push-back recliners, and rocker recliners out there to choose from. Glider recliners allow you to glide back and forth while you remain grounded in your position.
Try the Simmons Upholstery Jaguar Swivel/Glider Recliner that is upholstered in smooth tan fabric for the ultimate in comfort. Push-back recliners only recline in the back, and are normally upholstered in leather, so they look the least like a traditional recliner.
The Kathy Ireland Home by Omnia Furniture Leather Impala Push Back Recliner can be fully customized with your choice of leather co lour, leg finish, cushion firmness, and optional down filler.
Rocking recliners feature a mechanism that allows you to either recline or rock.
The Berkline Comfort Rest Recliner features that mechanism, as well as a massage and heating therapeutic combination.
Buy Recliners in these Materials
There are three popularly used materials when it comes to recliner construction – leather, fabric, and microfiber. Which one is ideal for your household?
Leather Recliners are generally the most expensive choice, if you choose top-grain or full-grain leather (which is of the highest quality). If you see "leather match" or "leatherette" in the product description, the recliner is most likely made from a mix of vinyl and leather. The price will be cheaper, but the quality may be poorer, so decide if 100% leather may be worth the investment.
Remember that leather is excellent at repelling stains, and it looks better and better with age.
The Tandem Hannah Chair guarantees real leather construction with its natural graining and soft sheen.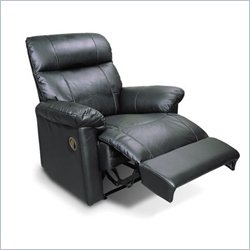 Try the Coaster Furniture King Leather-Match Vinyl Recliner if you're looking for a leather match chair.
Fabric recliners are probably one of the most classic choices. They're most associated with the traditional, overstuffed look of recliners past. If this is your kind of style, a fabric chair may be right for you.
They are generally less expensive than leather chairs, and come in a vast variety of colors and patterns. However, fabric is not as easily cleaned as leather, so be careful when you're eating or the kids are around.
The Berkline Core Chaise Recliner has dozens of fabric choices to choose from, plus has a high comfort level with its cushy foam fill.
A fairly new material that's in between leather and fabric is microfiber. It's super soft, durable, and also stain resistant. If you want the comfort of fabric but the practicality of leather, microfiber is a good option for you.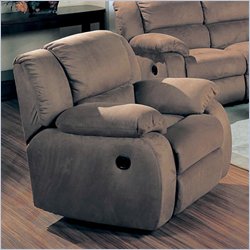 Try the Coaster Belmont Padded Microfiber Recliner – it's covered in padded microfiber for ultimate comfort.
If I Buy a Recliner How do I put it Together?
Now that you know what kind of recliner to look for, you must note that when you order a recliner off the Internet, it does not come pre-assembled. You don't have to put the entire chair together yourself – only some assembling is needed.
When you receive the chair in a package, you first remove the packing tape. Careful not to use a knife, for you don't want to cut into the box and find you've damaged your recliner. Once the top is open, tilt the box on its side so you don't have to lift the pieces out of the box.
Your chair will most likely arrive in two pieces – the seat back and the base. The seat back attaches to the base using interlocking brackets. If you look at both pieces from behind, you'll be able to make out the metal brackets.
Firmly (but carefully) press down on the seat back and slide it into the base, snapping the brackets together. If there's a flap that covers the back, it can most likely be snapped to the base as well, to cover up the inside.
Once you've pieced your new recliner together, test it out. See if the brackets connected properly, and try to be aware of any lumps or bumps that feel uncomfortable.
You're now ready to purchase your very own recliner!
Need help please call our helpful customer service team at 1-866-740-9830