Home -> Fireplaces -> Fireplaces Buying Guide


Fireplaces Buying Guide
Buy Fireplace What You Need to Know
Buy a Fireplace - What You Need To Know
Are you simply thinking "buy fireplace" but now wonder what you need to know to get the right model for you home? When you buy a fireplace you know that they are not only used to keep your home heated – they have a cozy, comforting appeal and can also act as a home décor piece. There are a lot of people that do not know very much information about fireplaces, however, so if you've been looking for a new fireplace but don't know where to start, read on!
First, let's cover a few common fireplace terms to clarify their definitions. These words and their meanings come from the following Fireplaces Glossary.com:
Bellows: an accessory used to blow more air into the fire, increasing combustion and producing a higher, stronger flame.
Flue: a pipe or channel for moving smoke from the fireplace to the chimney.
Grate: an iron frame that holds burning fuel for the fire.
Hearth: the floor of the fireplace, which usually extends away from the wall.
The most popular type of fireplace in today's modern times is the electric fireplaces. They're convenient in the sense that they do not require any sort of venting. Venting is needed with a traditional wood burning fireplace – it needs to draw in outside air to keep the fire burning.
Therefore, you can install electric fireplaces anywhere – an office, an apartment, or even outdoors…all you need is an outlet to plug it in!
You can even convert your current wood burning fireplace into an electric fireplace with the use of an insert – they're made from cast iron or steel and allow the fire to be viewed while its doors are closed, promoting heat, energy, and money efficiency.
Here are a few examples of electric fireplaces:
The Classic Flame Scottsdale Antique Mahogany Electric Fireplace features heating from energy-efficient LED lamps. LED lamps last about ten times longer than normal compact florescent lights, reducing power consumption, and your energy bill as well.
The uniquely modern Dimplex Ovation Laguana Free Standing Electric Fireplace Heater in Gloss Black actually doubles as an air purifier to remove allergens from the air.
Dimplex fireplaces all have flames that use under 300 watts of power, and at an average electricity rate, cost about 3 cents an hour to run.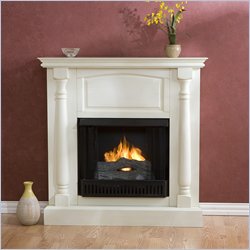 The simple, country-inspired Southern Enterprises Whiteman Antique White Fireplace produces no harmful emissions or pollutants, and doesn't combust so the glass stays cool to the touch.
If you're into the look of a real wood burning fireplace, the Uniflame Indoor Electric Stone Fireplace mimics the appearance with its faux stone construction and black marble mantle. It has a multi-functional remote control that allows you to fully adjust the heat and flame level.
A fireplace type that's on the rise is the gel fuel fireplaces. Gel fuels are becoming popular because they are environmentally friendly and inexpensive. Plus, you won't need a chimney or gas hook up to light it.
They're made of thickened ethanol that's been canned, and burn for up to three hours when lit. Gel fires look just like normal fires, and even produce the same soothing crackling noise.
However, they don't normally produce the same heat level, so don't expect the fire to heat your whole home.
The following fireplaces support gel fuel fires: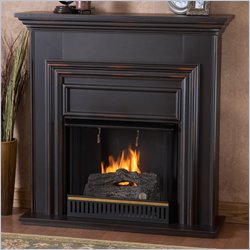 Constructed of solid steel and pine, the Real Flame Sloane Visionary Blackwash Gel Fuel Fireplace features a blackwash finish with crown molding details.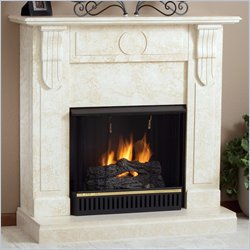 Nothing says elegance like a fireplace made with marble. The Real Flame Corbel Taupe Marble Gel Fuel Fireplace has unique detailing and an expensive look for only a fraction of the cost of a wood burning fireplace.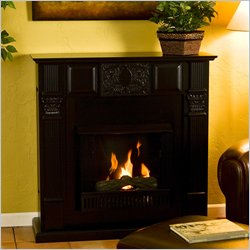 The subtle, yet stunning Southern Enterprises Marquis Satin Black Fireplace has original detailing in the mantle to give your room a focal point. Feel free to move it anywhere in the home – it's transportable.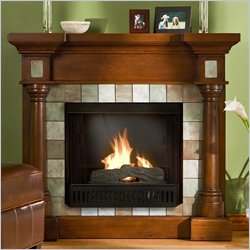 The warm walnut finish and grey/green slate tiling of the Southern Enterprises Slate Walnut Column Fireplace adds instant style and class to any room in your home. The wooden carved columns make the fireplace look expensive, even if it's not!
There are different styles of fireplaces available to choose from, so check out the following looks and see if any catch your eye:
Want to take up unused corner space? Try a fireplace that's built to fit snugly in your corner. It'll help you save space in your home if you've been lacking it.
Classic Flame Glendale Cherry Corner TV Stand Fireplace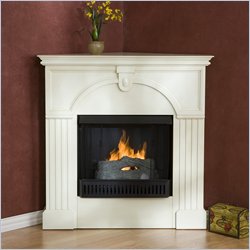 Southern Enterprises Sinclair Antique White Fireplace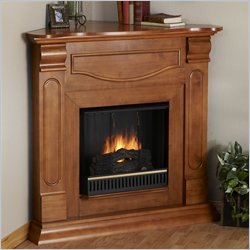 Real Flame Cambridge Oak Corner Gel Fuel Fireplace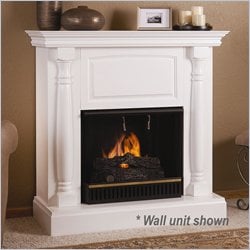 Real Flame Pillar White Corner Gel Fuel Fileplace
If you've been needing more storage space in your home, try a fireplace with slots, cabinets, or drawers. Don't worry about your items getting hot – electric fireplaces don't create heat to the touch, and gel fires aren't warm enough to damage items.
Dimplex Bennett Free Standing Electric Fireplace Heater in Espresso
Classic Flame Beverly Electric Fireplace and TV Stand
Southern Enterprises Sutter Antique White Fireplace with Bookcases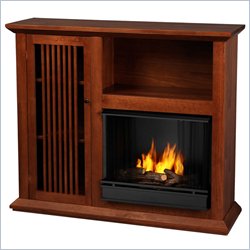 Real Flame Jonathon Mahogany Gel Fuel Fireplace
If you prefer a fireplace that's portable and not installed into the wall, try a free standing model.
Dimplex Promotional Free Standing Electric Fireplace Stove Heater in Black Finish
Classic Flame Strasburg Vintage Cherry Petit Foyer Electric Fireplace
Dimplex Celeste Free Standing Compact Electric Fireplace Stove in Cream Finish
Classic Flame Jamestown Antique Oak Petit Foyer Electric Fireplace
For a modern, contemporary look, a wall-mounted fireplace is slick and visually appealing while taking up less space.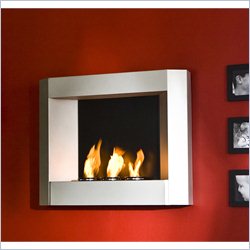 Southern Enterprises Wall Mount Contemporary Silver Fireplace
Dimplex Sahara Wall Mounted Electric Fireplace Heater in Silver Finish
Fire Sense Black Wall Mounted Electric Fireplace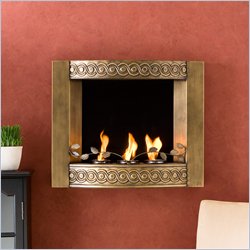 Southern Enterprises Antique Gold Wall Mount Fireplace
What's more relaxing then hanging out in front of an outdoor fireplace with family and friends? Consider investing in an outdoor fireplace if you love to entertain and want a warming spot outside where people can gather round and socialize.
Napoleon Outdoor Torch
Deeco Aztec Allure Chiminea
Outdoor Great Room Company Taos Natural Gas Campfire With Logs & Base
Dimplex Rockport Free Standing Electric Outdoor Fireplace
Now you are all ready to "buy fireplace:" please let us know if you have any questions or help our customer service team is always standing by 1-866-740-9830!