Home -> Dining Tables -> Dining Tables Buying Guide


Dining Tables Buying Guide
Kitchen and Dining Room Furniture
Buy Dining Room Furniture

Nothing makes a better family gathering spot that a fully furnished dining room. After all, getting together and enjoying a home-cooked meal is the best way for a family to connect. Of course, dining rooms don't always have to be about family connection – they can be used to dine solo or as a couple as well.




Plus, you don't just have to have a table and chairs in your dining room – there is more to your dining room than you think! Read on to find out about how to buy dining room furniture and what types or kinds are ideal for your home.





With so many tables to choose from on the market, where exactly do you start? First, you should know how much room you have to spare in your dining room. You don't want to choose a table that doesn't end up fitting your space! Take measurements of your dining room and then check the measurements of the table you're interested in. Next, the dining table will be the centerpiece to your dining room, so think about what kind of style you'd like it to be. Here are some common dining room table styles:



These tables are normally round in shape with one leg for a base in the center. The leg base can be quite detailed, so if you want a dramatic, regal table, consider a pedestal.


The Standard St. Pierre Round Pedestal Dining Room Table gives off an 1800's vibe with its cherry finish and brass details.





Leg tables are the standard dining room tables with legs coming down from each corner. They're great for small families, but if you want to sit more people, the legs might get in the way.





The Hillsdale Chenoweth Dark Oak Dining Table has a classic, understated look that could be considered a formal or casual dining table at the same time.

Two sets of legs are connected by a horizontal beam underneath this table type. They're normally longer in shape, therefore more suited to a lengthy dining room.


The Homelegance Daisy Espresso Trestle Table is sleek and modern with its espresso finish and subtle trestle detailing underneath.



This table style features extendible leaves attached by hinges that you can raise or lower, depending on how many people are seated at your table.



The Jofran Conventional Height Doble Drop Leaf Table in Dark Chianti features a double drop leaf for three table positions, and has a soft, contemporary feel.
Flip Top

These unique tables have a special table top that doubles over itself to shrink its size. As it extends, it shifts or rotates outward. Flip tops are basically alternatives to drop leaf tables.



The Entree Tiki Flip Top Table features special X-shaped legs and extends from 27" to 54".
Buying dining room chairs are just as important as the almighty dining table. Although you're not going to be spending a lot of time on these chairs, unlike the couch or your trusty armchair, dining chairs should still be comfortable to sit on.
There should be proper back support, and your feet should touch the ground comfortably. If you choose a chair with an upholstered seat, be sure to check if the upholstery has been stapled – not glued – to the bottom of the chair (it will last longer).
When it comes to material, leather and microfiber chairs are the most popular choices because they repel stains the easiest. Fabric chairs may not do so well with stains. You can always invest in a machine-washable slipcover for your dining chairs if you like the look of fabric.

Classic wood dining chairs are the most popular choice of all. Here are a few different styles of wooden dining chairs to check out:
Windsor Dining Chairs
This classic, country-styled chair features turned spindles in its rounded back. They also have stretchers between the legs, giving them a detailed but casual look. The Lifestyle California Jamestown Windsor Back Arm Chair has an antique black finish that ties in with the English Windsor country look.
Arrow Back Dining Chair
The Arrow back chairs branch from the Windsor chair with its spindled round back, but the spindles are more of an arrow shape. The International Concepts 36" Copenhagen Arrowback Chair with Plain Legs has angled back legs for extra stability and a classic style that will last for years to come.
Slat Back Dining Chair
Flat, vertical supports make up the slat back chair. The number of slats varies between each slat back chair. The Grand Rapids Chair - Wood Slat Back Melissa Side Chair is made from solid beech wood and a comfy padded foam seat.
Ladder Back Dining Room Chair
The opposite of slat back chairs – the slats in the Ladder back chair go horizontal, like a ladder, instead of vertical. The Stanley Furniture Portofino Ivory Ladderback Side Chair has a gorgeous antique ivory finish and a comfortable fabric seat.
Parsons Dining Room Chair
The Parsons chair has a tall, slightly curved back, and is normally upholstered in microfiber or leather. They give off an elegant and contemporary look. The Steve Silver Montibello Parsons Dark Brown Chair Box Seat is upholstered in dark brown leather with a tufted back, giving it an expensive look.
Of course, you don't have to purchase your chairs and table one at a time – there are plenty of matching dining sets available in all different sizes and styles.
Dining sets are ideal if you want a dining table and chairs that fit together, and want to save money in the long run. Since you won't be buying pieces separately, you'll also be saving time. Here is a selection of different dining sets to choose from, based on the number of seats:
Three piece dining sets feature a table and 2 chairs. These sets are suited for people who live solo, a couple living together, or an apartment dweller who want to save space.
The Montello 3 Piece 36-inch Round Dining Table Set by Hillsdale is elegant and romantic, drawing from traditional influences with its steel construction that's been finished in antique brass.
For families of four, or even for a couple, a five piece is ideal. It features the table and four matching chairs.
The Canterbury Home Furnishing Richmond 5 Piece Dining Set is family friendly with its casual style and deep espresso finish.


Dining Set
With a table and six chairs, the seven piece set is ideal for a family that's between 4-6 people in size.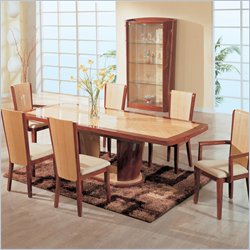 The Global Furniture USA Gabriella 7 Piece Dining Set is absolutely stunning with its contemporary shape and glossy, two toned wood finish.


Dining Set
Eight chairs and a table complete the nine piece dining set. They're definitely suited for bigger families who are buying dining room furniture, people who entertain, or individuals who just want more room!

The Canterbury Home Furnishing Plantation 9 Piece Dining Set has elegant wrought iron detailing in the back pieces of the chairs, as well as a unique roasted cocoa finish to add visual interest.
Cabinets
China cabinets tend to mix storage and display into one. The top is usually made of glass so you can show off any items, while the bottom has drawers or cabinets for storage.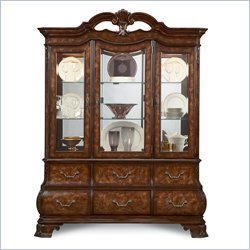 The Pulaski Renaissance Court China Cabinet is made from solid wood and is subtle with antique brass accents and extra storage drawers for cutlery but will bring all the attention to your displayed items inside.
Unlike china cabinets, the curio cabinet is just made to be a display case. It has a glass front and sides with no closed cabinet areas. A few features it can have are mirrored back and display lighting.
The Howard Miller Lamar Corner Curio Cabinet fits into any corner with a distressed black finish and beautiful cherry wood backboard.
Now you can buy dining room furniture but if you still have questions please call our helpful customer service team at 1-866-740-9830