Home -> Bunk Beds -> Bunk Beds Buying Guide


Bunk Beds Buying Guide
Bunk Beds Aren't Just for Kids

Create a fun and interesting kid's or teen's room with one of the many bunk beds on the market today. This space-saving sleeping solution has developed into a design statement and an opportunity for playful furnishing choices.
The Evolution of Bunk Beds
Traditionally, the use of bunk beds was to accommodate as many people as possible in dormitory or camp settings. The one-time décor choice of army barracks and orphanages underwent huge changes in form and function in the 20th century. Elaborating on the novelty children feel while sleeping in an elevated loft-style bed, bunk bed designers have sought out every opportunity to incorporate creativity and play into their beds.
These days, you'll find multi-purpose furniture solutions that build distinctive bedrooms in a few quick steps. It's easy to choose a funky bunk design, and then add a few distinctive décor items for a room that gets a reaction.
Themed Bunk Beds for Kids
From dollhouses to play forts and castles, your choices in bunk bed designs encompass themes that come built right in. Bunk beds for kids (both girls and boys) are available with staircases, bookcases, dressers, and desks, all painted, carved, and embellished.
Creating a space that's all about play can be as simple as choosing a loft bunk bed with seating below. Consider a bunk with diner-style table and booth seating when a smaller bedroom limits the play furniture you can incorporate.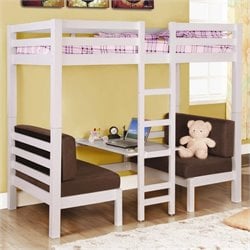 Student Bunk Beds with Desks
When you're looking for more than just fun from your bunk bed purchase, there are some practical and affordable choices in metal and wood bunk beds with desks or futons on the bottom level. A teen or college student could easily make use of either style.
Now that you're considering a bunk bed for your next bedroom furniture purchase, be sure to check out the full selection of wood and metal, along with the many features to choose from.