Home -> Bunk Beds -> Bunk Beds Buying Guide


Bunk Beds Buying Guide
Bunk Bed Materials, Colors, and Finishes

When you think of bunk beds, a simple pine frame probably pops into your head, perhaps something reminiscent of summer camp or standard junior bedrooms. If you haven't seen the selection out there for modern bunk beds, you'll be amazed at the variety in form and function.
Wood Bunk Beds and Finishes
It's true; most bunk beds are still made of wood. But the styles and configurations have expanded. In both contemporary and traditional style, you'll find finishes including: black, white, cherry, chocolate, espresso, maple, natural, oak, and pine. Coordinating with your existing furniture is much easier when you can choose a similar wood finish. For children's and teen rooms, look for shades of pink, purple, yellow, and blue.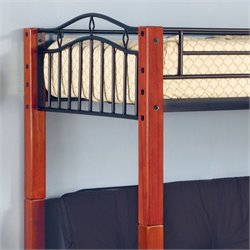 Colorful Metal Bunk Beds
Many metal bunk beds come in standard finishes like silver, brass, black, and white. But for custom bedroom themes, sometimes a splash of vibrant color is just what you're looking for. To find bunk beds in bright red, yellow, and blue, coated metal will be your best bet. Although you'll find colors in wood bunk beds, they're more likely to be of the pastel variety as described above.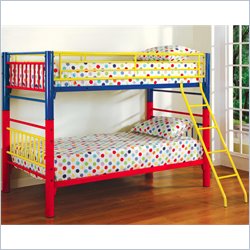 Textures and Designs
The layout and detailing of a bunk bed frame can help define the look as much as the material and finish. Metal bunks may feature tactile textures like diamond plate panels, an overall hammered look, or an antique finish that adds a touch of refinement to teen and student bedrooms.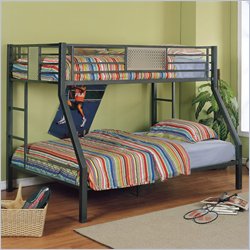 Wood bunks on the other hand can include more detail in carved posts or molding on panels. As wood is the more common material, you'll tend to find a better selection in wood bunk beds, with more matching bedroom furniture from many manufacturers.
When you consider material versus style, consider practical factors as well. For example, a black bunk bed made of metal may look newer longer than a black bunk bed made of wood. The same will be true for white bunk beds. Take some time to weigh your preferences for material and color before you make your choice.