Home -> Bunk Beds -> Bunk Beds Buying Guide


Bunk Beds Buying Guide
Bunk Bed Buying Q & A
Frequently Asked Questions About Bunk Beds MoreBunkBeds.com
Q: How large do bunk beds get, both for top and bottom beds?
A: The largest combination of frame size we carry at MoreBunkBeds.com is a full-over-full configuration. This is 2 full-size mattresses, which could be ideal for older children that want more sleeping space to be comfortable.
Q: Is there a minimum age requirement for using a bunk bed?
A: We recommend that only children who already sleep regularly in an adult twin-size bed use either level of a bunk bed. Although top bunks have safety railings in place, most parents feel more comfortable using bunk beds with more mature children who are more likely to sleep through the night uninterrupted.
Q: I don't want a bunk bed with a ladder. Do I have other options?
A: If designs that incorporate a ladder concern you, some manufacturers use stairs as an alternative. These bunk beds with stairs tend to claim more floor space than their counterparts with ladders, but if you're looking for a fun design rather than a space-saving solution, these beds might be right for you.
Q: What are bunkie boards and do I need to purchase one or more?
A: Depending on the design of your bunk bed, you may need at least one bunkie board. These boards are a large wood piece used in lieu of a box spring or support slats. They allow the lightweight design of the top bunk, where the use of a large, heavy box spring could be unsafe.v
Q: How does a twin over futon bunk bed work?
A: Most futon bunk beds have a sliding bottom frame that is designed to extend slightly past the edge of the bunk bed frame, allowing the futon mattress to lay completely flat. This clever design combines the daybed or convertible sofa convenience of a futon, with extra accommodation of a bunk bed. Futon bunks make a great choice for teens or for guest rooms.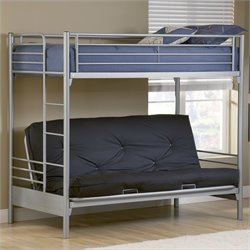 Q: What is the maximum number of people a bunk bed can accommodate?
A: At MoreBunkBeds.com, our largest bunk beds sleep 3 children comfortably. We carry a triple bunk with a large L-shaped top bed as well as a twin over full bunk with a trundle option. If desired, a full-size mattress can accommodate 2 for a total of 4 children, but only 3 separate sleeping spaces.