Nothing warms up a room quite like a bookcase filled with our favorite treasures. Not just for books, they are a great place to display photographs, accessories or mementos. Imagine a home or an office without any place to safely and conveniently store manuals, reference materials and media.
Bookcases are both decorative and functional, and come in a seemingly endless variety of styles, designs and materials. To help you to decide how and what to choose, here are a few suggestions.
---
---
Before You Begin:
Where is the bookcase going to go? Do you want it to fill an entire wall or just the corner of the room?
After deciding where to place it, take measurements; you don't want to end up with a unit that's either too big or too small. When measuring, be sure to allow for the depth of the shelves to prevent the bookcase from blocking doors, foot traffic, etc.
Determine whether or not you want the bookcase to hold just books, or other items.
How much do you want it to hold? If you're an avid reader, you might need more than one regular units or a wall unit.
Consider buying bookshelves that include glass doors if you want to protect your books and treasures from dust or curious little fingers.
---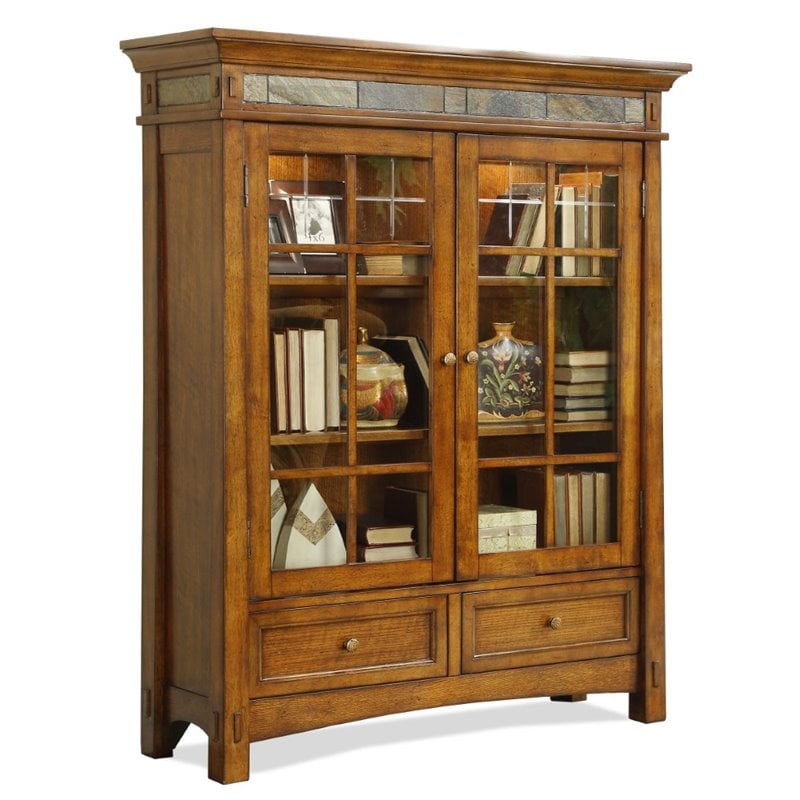 Riverside Furniture Craftsman Home Door Bookcase in Americana Oak
What Kind of Bookcase Do I Need?
Bookcases are no longer limited to just plain vertical units. They come in a variety of shapes and configurations including step bookcases, cubes and compartmental shelving. Perhaps you want a handsome wood bookcase that will give your den the look of an Oxford library reading room. Or maybe you would prefer one that is purely functional and will allow you some place to put your books. When decorating a child's room, bookcases can be a great organizational tool, disguised as a lift-and-hide chest or a carousel.
Standard bookcases are available in a range of heights and widths, but are generally designed to sit flush against a wall and include adjustable shelving that will hold regular-sized hardcover books (approximately 10 inches in depth).
Corner bookcases transform unused space into a decorative focal point. Typically they are triangular in structure and are compact. They tend to hold less than a standard bookcase, but are ideal for displaying scrapbooks, photo albums or a small collection of story time favorites.
Once used almost exclusively in government offices and by the legal profession, barrister bookcases have become increasingly popular when decorating a home or an office. Traditionally, these are stackable cabinets with receding or flip-up glass or solid doors, and can be added to as needed. Today's units are designed to look like several units stacked together.
A variation on the entertainment center, bookcase walls can be configured to display collectibles and/multimedia equipment. In addition to bookshelves, they can include features like open storage, hidden storage, cubby shelves and stackable modules. Depending on the make and manufacturer, a bookcase wall can be free standing, or an integrated part of a desk or bed set.
Bookcase headboards are both versatile and practical. They are designed to stand at a specific height so that they can function both as a headboard and a shelf. Bookcase headboards are available in a variety of styles suited to both adult spaces and children's bedrooms.
Like other types of kids' furniture, children's bookcases are short in height and built to be durable and long lasting. Available in bold colors and themes, in addition to the classic white and wood finishes, kids' bookcases are meant to make reading fun while providing you with practical storage solutions.
---
Altra Furniture Ladder Bookcase with Desk in Espresso Finish
What Kind of Material Should I Choose?
Known as an engineered wood, MDF or medium density fiberboard is made by gluing wood fibers together using heat and pressure. Because it is made from recycled materials, MDF is more affordable than solid wood, but is just as strong and durable.
Laminates are produced by pressing layers of plastic, metal or wood together, then sealing them with a thermosetting resin. They are commonly used to make home furnishings because they are durable, easy to care for and economical.
Wood veneers are created by a similar process as in the making of laminates. Thin slices of real wood are glued to the substrate using heat and pressure. Since it is not as expensive to manufacture, it also gives furniture the texture and appearance of genuine solid woods, while keeping costs down.
Widely considered to be the most durable material for furniture, solid wood furnishings are constructed from wood cut from the trunks of trees like beech, maple or oak. They are more expensive than engineered wood products, anywhere from two to three times more expensive than a similar one made from MDF.
Metals are a popular material for functional or decorative shelving because they are strong and durable. Metal bookcases are an ideal solution for an office environment.
---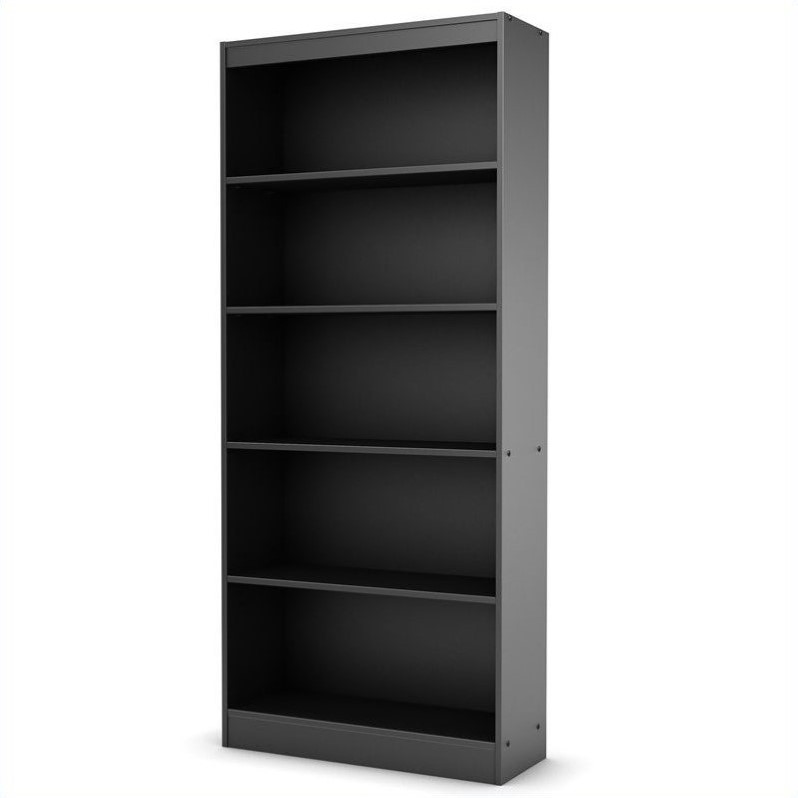 South Shore Axess 5 Shelf Bookcase in Pure Black
What Style of Bookcase Should I Select?
Traditional bookcases can vary from the elaborate fussiness of Victorian times to the less complicated ideals reflected in Colonial designs. Easily recognizable by their rich finishes and deep wood grains, a traditional bookcase will give your home or office a stylish elegance. Go for a rich mahogany or walnut for a timeless choice.
Transitional bookcases retain the rich finishes and period flavor of traditional furniture, while minimizing the more intricate details like carved moldings and motifs. A transitional bookcase is a good decorating choice because it is eclectic and flexible. Try an espresso finish for an urban look.
A contemporary bookcase might have clean lines, an open structure or textural accents of wood or glass. Modern design is a perfect match for this style. Neutral colors like black are a common modern choice as are ladder bookcases.
Country furnishings are characterized by milk-painted woods, light to medium finishes and soft lines. A country bookcase will add a tranquil charm to your room's atmosphere. Antique white is a popular country finish.
---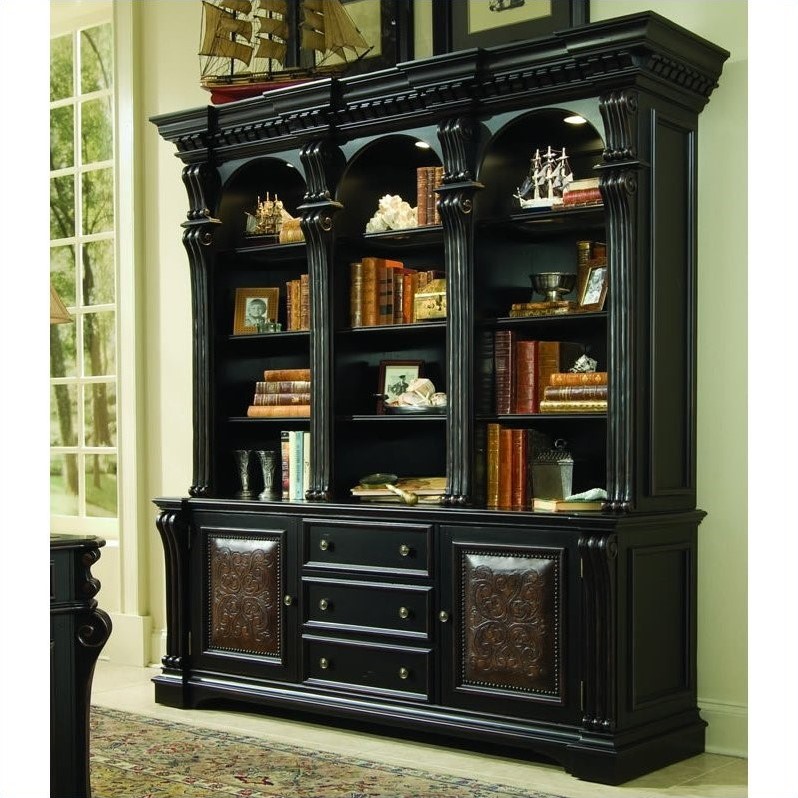 Hooker Furniture Telluride Bookcase with Bottom Storage
What Else Should I Keep In Mind When Choosing a Bookcase?
To accommodate any non-standard size books you might purchase in the future, buy bookcases with adjustable or extra-deep shelves.
For the serious bibliophile who wants to protect their books from dust or temperature changes, select a bookcase with glass doors.
When buying bookshelves for a child's room, make sure that the height of the unit is age appropriate and will be easy to keep clean.
When no longer needed, modular units can be reconfigured for use in another space.
Don't write off awkward or cramped areas as a place for storage. Use a tall and narrow or short and square designed bookcases to fill an otherwise empty space.