Forget the exercise ball, turn work into a workout with the latest phenomena in healthy workspace design: exercise desks and standing desks.
Not only do these revolutionary desks shake-up your work day, they also reduce the risks associated with excessive sitting, which extend beyond obesity. According to the Wall Street Journal, a recent study by the American Cancer Society found that men who sit for more than six hours a day are 55% more likely to die prematurely than men who sit less than three hours. The early death rate for women is 37%.
Exercise desk
The concept is simple. Enterprising designers first began placing treadmills and exercise bikes beneath their desks, as a way of keeping fit at work without sacrificing company time. Then they started modifying their desks to perfect the experience.
However, the grassroots movement has now gone corporate, with professionally-crafted bike desks and treadmill desks in various sizes and forms retailing for up to $8,000.
Luckily, Cymax offers cheaper ways to stay fit at work. If the idea of an exercise desk appeals to you, see what you create do with one of our cheaper exercise bikes and adjustable height desks.
Keiser M3 Indoor Trainer Exercise Bike
Standing desk
If a bike is too much of a workout, or if you like to start with training wheels, you might prefer to begin with one of Cymax's standing desks.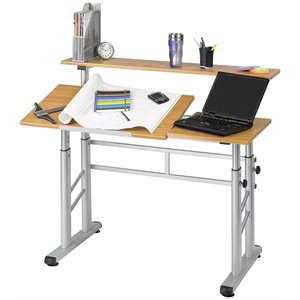 Safco Standing Desk
Not only do these versatile desks help keep you alive longer, they also allow you to better enjoy your time by strengthening important back muscles. Leonardo da Vinci, Benjamin Franklin, and Thomas Jefferson are all said to have used stand-up desks, while a growing number of workers at Google, Facebook and other forward-thinking employers are also trading in their sit-down desks for standing ones.
---
---