If you're willing to be creative, it's never too late to plan for Valentine's Day. Your kitchen can be a bistro and your living room can be a theater. All it takes is the right atmosphere. Here are a few ideas for transforming your living space into a cozy and comfortable two-part date night.
Your Personal Bistro
Upgrade your evening meal to a romantic dining experience. Look around and evaluate the scene. What is your situation for seating and lighting in your kitchen or dining room? A smaller table for two is better in this case. Do you have a pub set you can move near a window? Or can you remove a leaf from a larger table? Whatever table you use, clear off the clutter and keep it simple with a rose in a vase or a pair of simply elegant candles between your place settings.
Whether you're expertly preparing your date's favorite meal, trying to cook a tricky new dish, or ordering in to stay on the safe side, you should also have a few sweet treats on hand. Unlike dinner reservations, a box of chocolates or a couple of cupcakes can be snagged at the last minute, on your way home from work. If you're inclined to bake too, score even more points with homemade goodies.
Hillsdale Dynamic Designs 3 Piece Pub Table Set with Mansfield Stools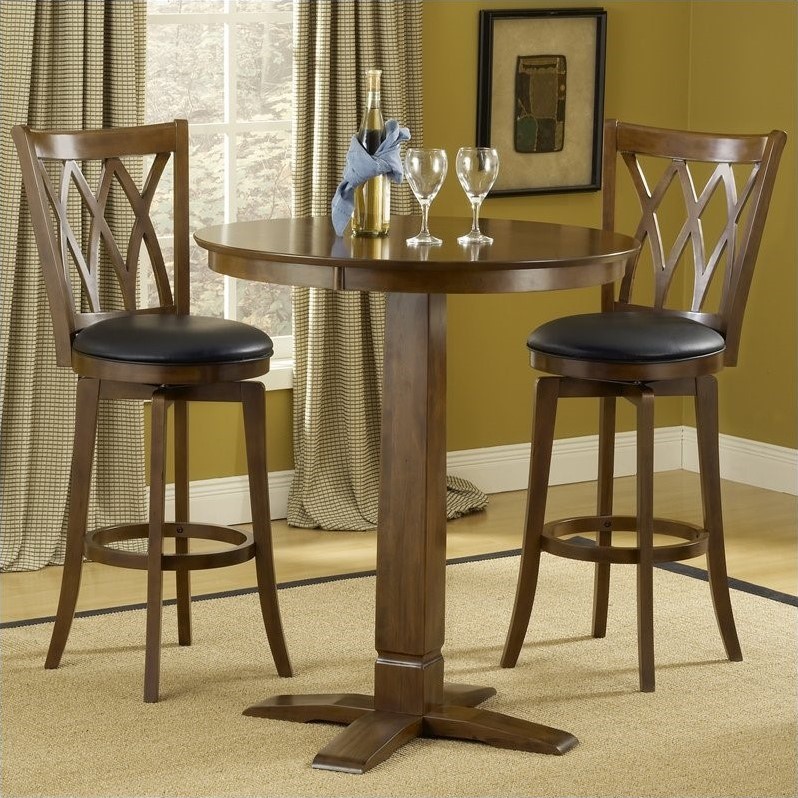 Your Home Theatre
Transform a movie night into a real date with a few simple steps. Look around your living room, starting with your television and media setup. Is your TV stand or entertainment center neat and tidy? Give it a quick dusting and clear any clutter or visible wires.
Have you got a spot to get cozy on a couch or loveseat? If so, is that spot suitable for watching a movie and/or enjoying cocktails? If your coffee table sits between your sofa and television, make sure the tabletop is clear of decor items so you can curl up and get comfortable without your view of the screen being obstructed. Of course, that box of chocolates won't really be in the way, so bring those along. Candles are a great idea here in your living room too, particularly if you can place them strategically on accent tables or end tables. The light of your television screen might not be enough, but you'll want to avoid overhead lights or lamps to make sure your lighting keeps the romantic mood going.
Some of these pointers might sound cheesy, but remember, for a spontaneous date, effort is half the battle. If the last-minute nature of your date is mutual, a little goes a long way. And even if you forgot about Valentine's Day and you're playing catch-up, a few thoughtful gestures can make all the difference between a flop and a night of fun.
Instant Ambiance Year Round
Be even more prepared for your next spontaneous date with a fireplace TV stand, like this Real Flame Hawthorne TV Stand. What better way to create instant atmosphere without crowding your living room? A TV stand fireplace incorporates the atmosphere of a fire into smaller spaces where an additional fireplace mantel just wouldn't fit comfortably.
---
---
You might also like
---