Why Buy A Desk?
A desk is an essential part of any office whether it's in your home or in your workplace. Today's desks offer much more than just a work surface. They are equipped with storage features like filing cabinets and drawers which help to keep the work surface clear for your important tasks. Desks have evolved over time to become more appropriate for today's computer-based working environments. They are available in a huge array of styles, sizes and finishes so that you are guaranteed to find the right fit for your work space.
Types of Desks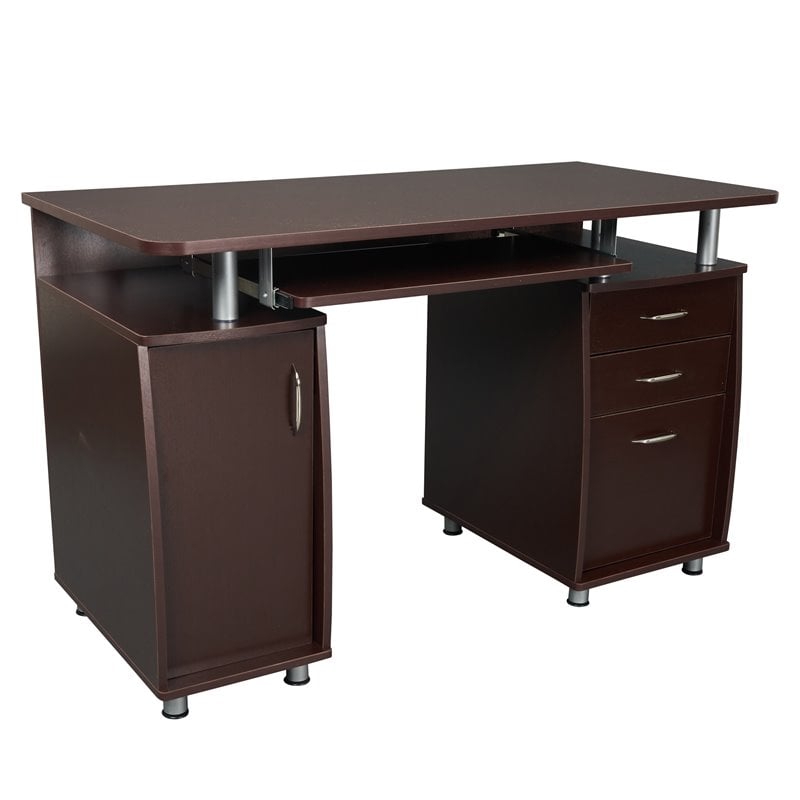 Techni Moblili Computer Desk RTA
Computer Desks
It should come as no surprise that computer desks are by far the most popular style of desk for today's working environments. A computer desk provides a flat workspace suitable for a computer along with extra storage. Many styles have a built in cabinet for your CPU as well as grommets and other wire management systems. Many incorporate pedestal-style cabinets on one or both sides which typically include storage drawers and a filing cabinet for paper storage.
 
Hooker Furniture M Lange Bennett X Base Writing Desk
Writing Desks
Writing desks are timeless and elegant solutions for a home office. They are generally sleek and slim in shape which gives them a lighter look in comparison to a large computer desk. The draw back is that they offer little to no concealed storage but that is often a fair trade off for their beautiful good looks. A writing desk is often a great solution for those who work with a laptop instead of a desktop computer. Writing desks are available in a wide range of colors and sizes ranging from traditional styles to more modern designs. Â If you are planning to use your writing desk for a desktop computer double check that the desk has a depth of 24″ or more in order to accommodate your monitor.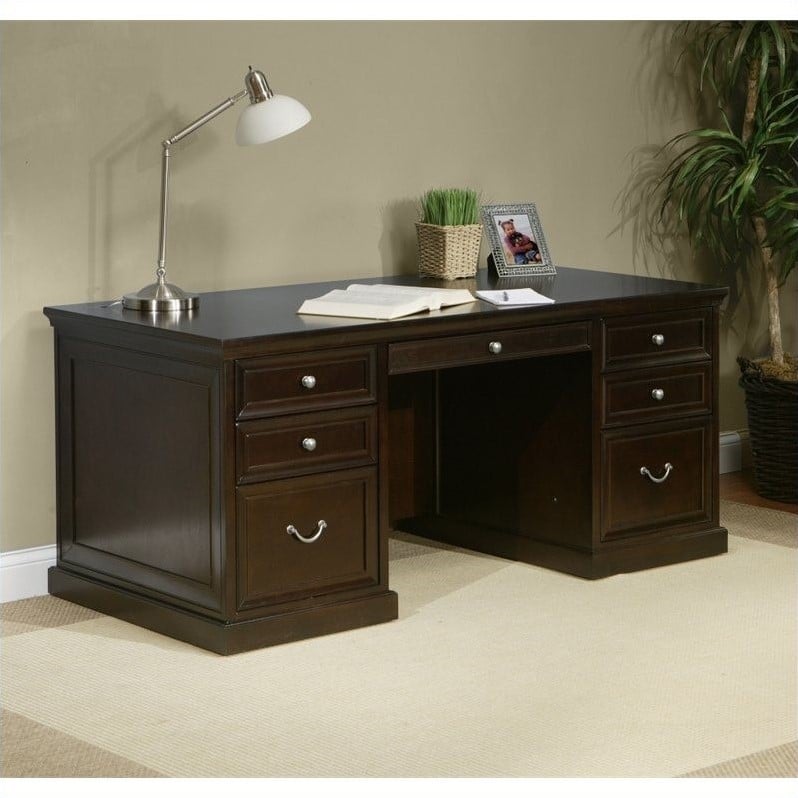 Kathy Ireland by Martin Fulton Office Double Pedestal Executive Desk

Executive Desks
Spring for an executive desk to get a stately look with a ton of built in storage. Executive desks are the perfect choice for a true executive office or a large home office. With ornate detailing, moldings and hardware, these desks are truly showstoppers. Use one alone or in conjunction with a hutch, U-bridge or L-shaped desk to make the maximum use of your space.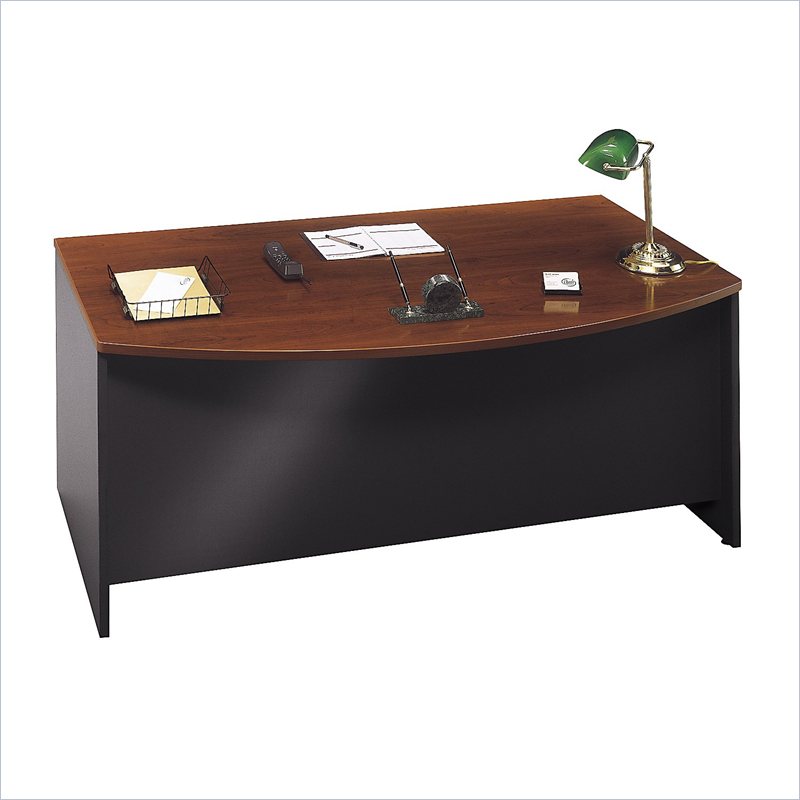 Bush Hansen Cherry Series C Corsa Bow Front Desk
Bow Front Desk
A bow front desk is a type of executive desk with a rounded front. These have a softer feeling than a normal executive desk, making them an ideal choice for those who see clients in their offices frequently. Whether your office is at home or not, a bow front desk creates a welcoming presence that will warm up any office space.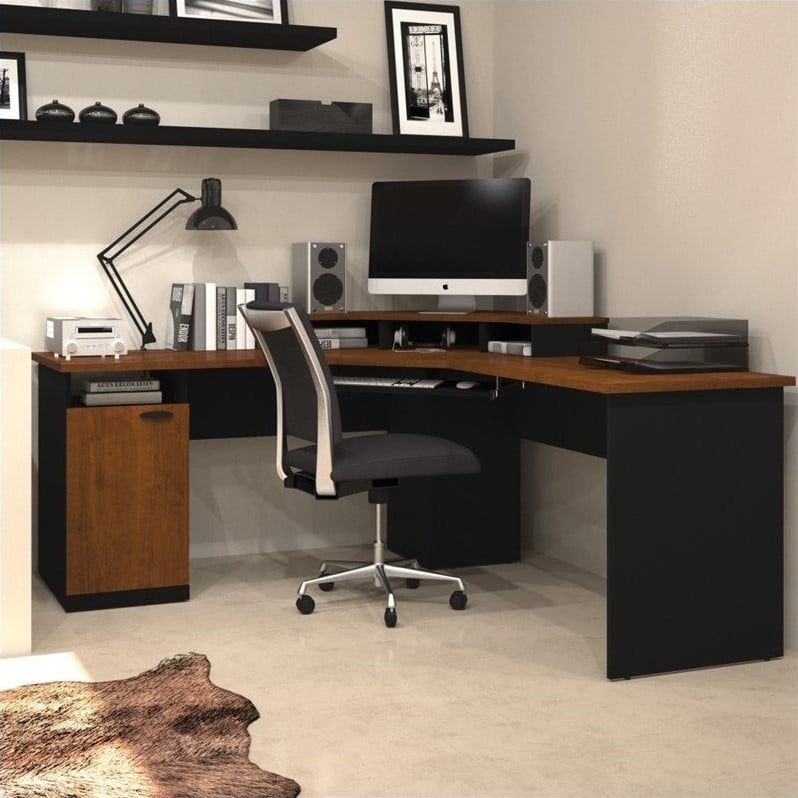 Bestar Hampton Home Office Computer Desk in Tuscany Brown
L-Shaped Desk
L-shaped desks are a popular choice for many working environments. They are versatile enough to be used in a number of different configurations. Use an L-shaped desk to delineate separate working spaces in an open concept office. Or choose a smaller scale desk for use in the corner of your home office. If you need extra storage go for a model with an attached hutch on one or both sides to make the most of your vertical space.
 
American Drew Camden White Drop Lid Work Station
Secretary Desks
A secretary desk is a design classic and a great way to incorporate storage into your workspace. A secretary desk typically has a fold-out work surface (which is why they are sometimes known as a flip top desk). The work surface does double duty by concealing storage shelves or drawers. However, even though secretary desks all share this characteristic there are still a number of different styles to choose from. Some secretary desks incorporate a hutch while others are small and sleek – an ideal solution for small spaces. Most include pedestal storage or drawers underneath. Some types of secretary desks are simply drop front desks, without a base of drawers and do include additional storage. Secretary desks are typically antique-inspired, making them a great choice for classic or formal style homes. However, today's modern desks are often equipped to deal with all the latest technology and feature wire management systems.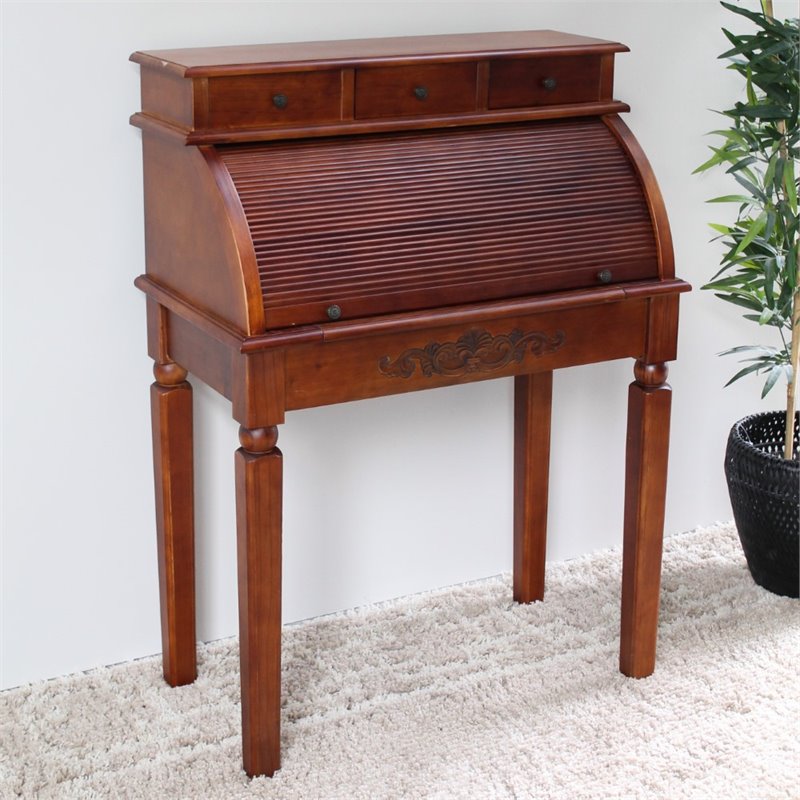 International Caravan Carved Wood Roll Top Desk
Roll Top Desk
A roll top desk is another great choice for those who want to be able to hide their work away out of sight at the end of the day. The roll top also usually has the ability to lock which makes it a great option if you have a home based business or if you just want to keep your work safe from your little ones. Roll top desks also have a timeless look that is a perfect complement for a traditional style home. But looking like an antique doesn't mean they perform like one. Many of the new roll top desks have been specifically designed to house laptops and computer peripherals. Different roll top desks have different storage features including drawers, shelves, paper slots or letter caddies. A roll top desk makes a great choice for rooms that do double duty such as a den or family room.  They are commonly made of real wood with deep and sophisticated stains or finishes.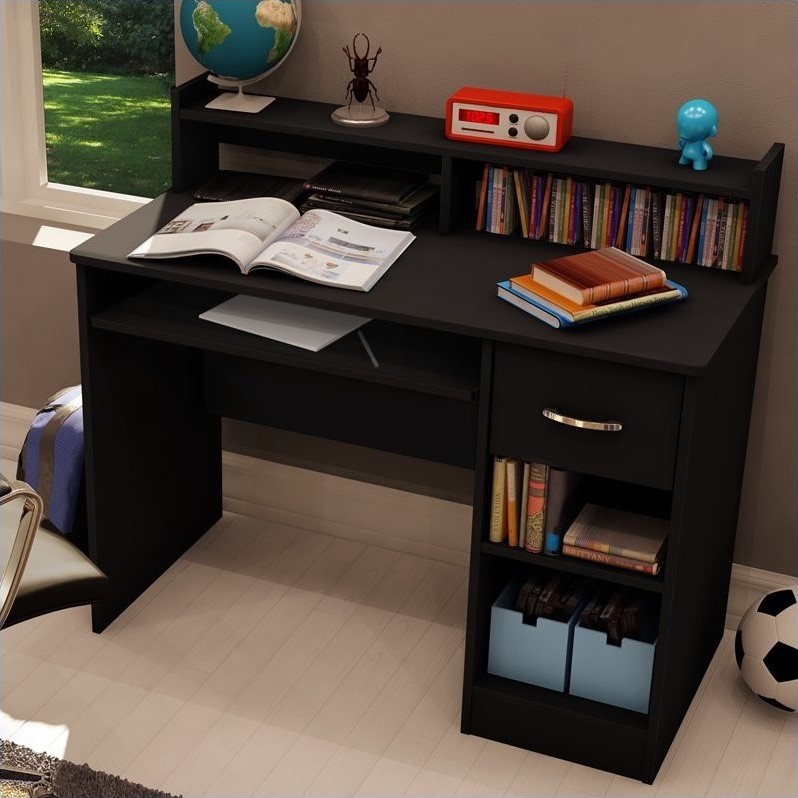 South Shore Axess Small Wood Computer Desk with Hutch in Pure Black
Student Desks
Student desks are not just for students. A student desk is typically a type of computer desk that is smaller than average. Their compact size and clever storage features make them a great choice for any small space. Some are even designed to be portable, which makes them a great option for spots where you need flexibility (like a dorm room or studio apartment).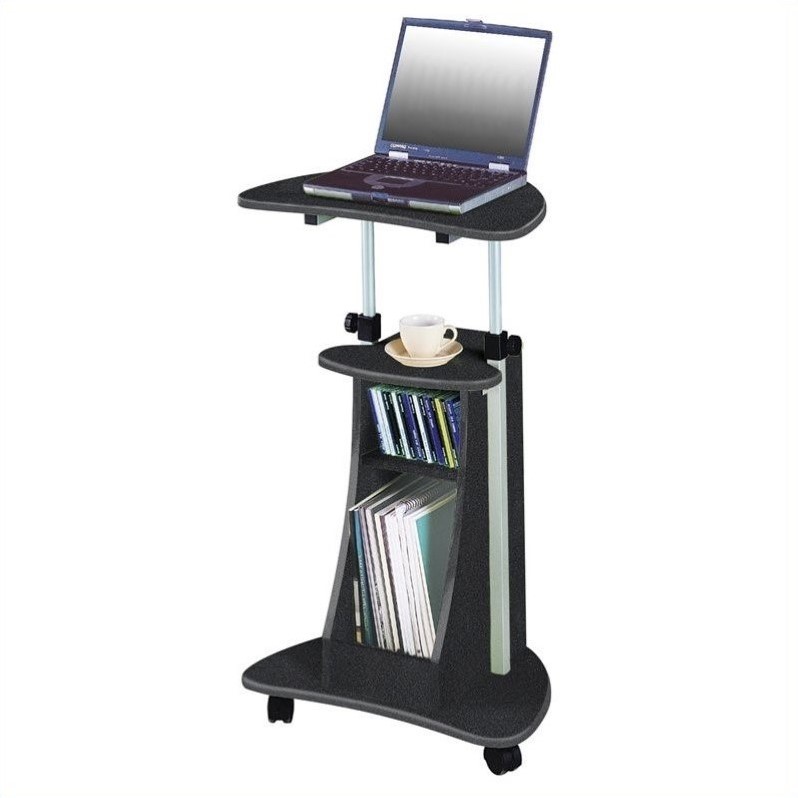 Techni Mobili Cadmus Mobile Laptop Stand in Graphite RTA
Standing Desks
Choose a standing desk for any situation where mobility is required. For the most part a standing desk has wheels so that it can be moved easily from place to place. Some people will require the flexibility of a standing desk while others will simply prefer to work while standing for ergonomic reasons. Standing desks are also popular in academic and professional environments where presentations or lectures are frequently given.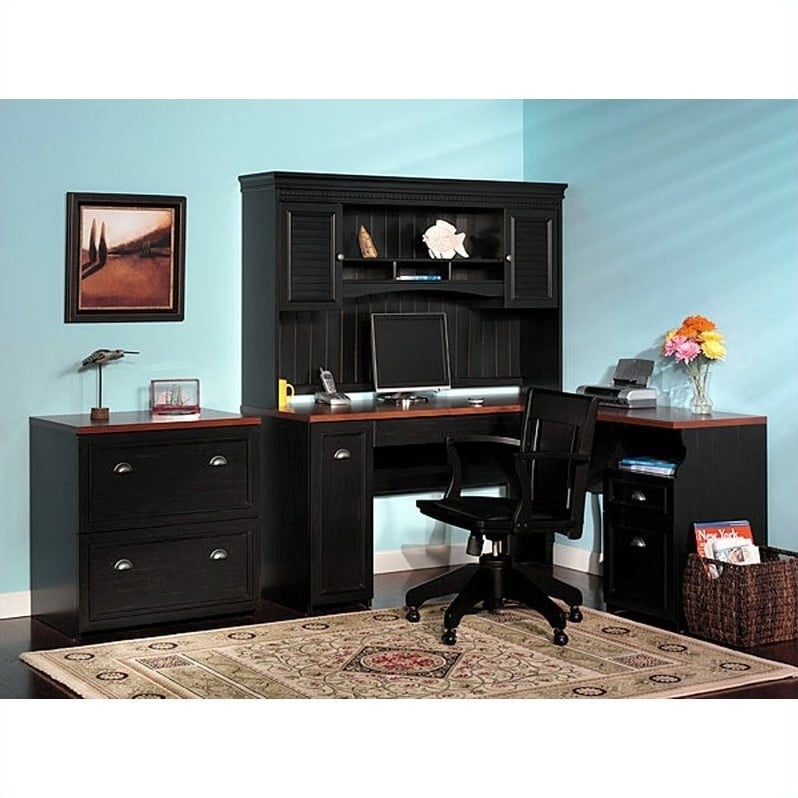 Bush Fairview Black Cherry Office Suite
Home Office Desks
Home office desks are a great way to maximize storage in your home office. Most home office desks incorporate extra details like hutch shelving or an l-shape. Look for extra features such as pull-out keyboard trays, CPU shelves or printers to accommodate all your needs.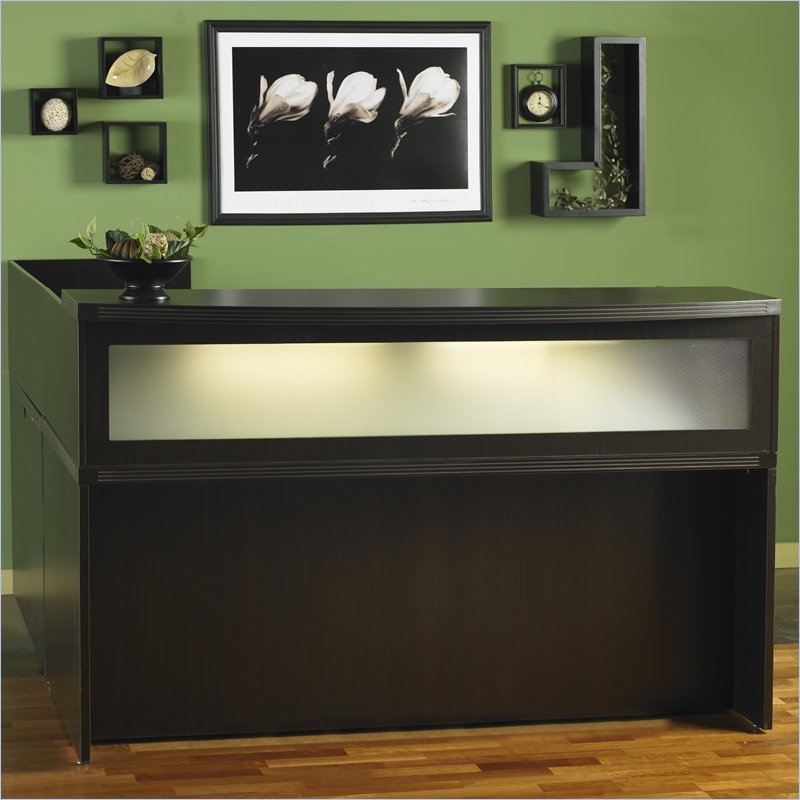 Mayline Aberdeen Reception Station with Transaction Counter and Return
Reception Desks
If you are outfitting an office space, you will want to make sure you pay extra attention to your reception area. It's the first place that anyone will see upon entering your office so you will want to make sure it makes a great impression. Reception desks offer both privacy for the reception area and a convenient transaction area for guests. The right reception desk should be both functional and eye-catching at the same time.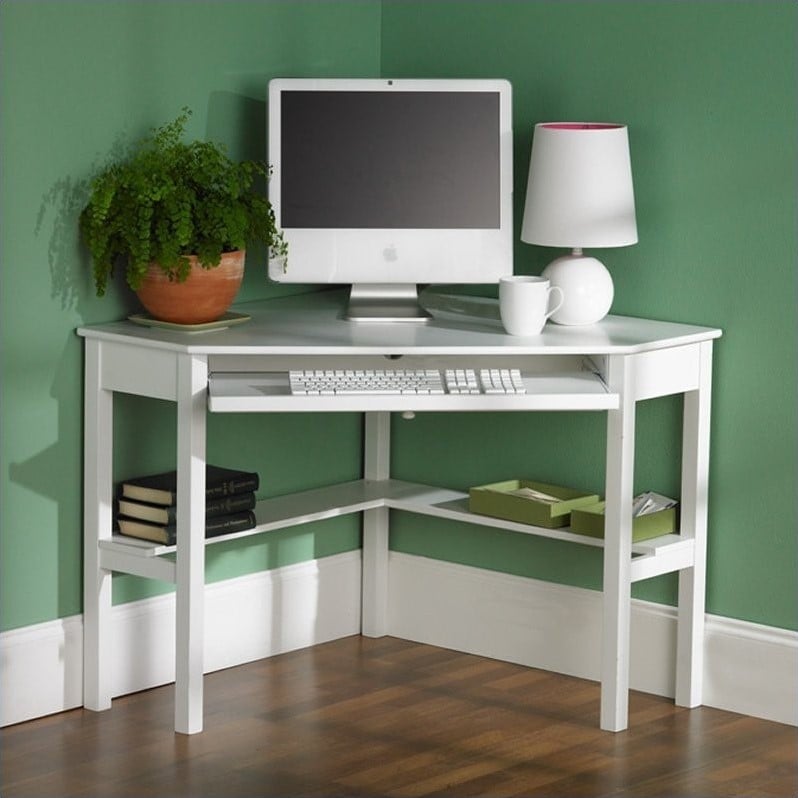 Southern Enterprises Corner Computer Desk
Corner Desk
Stretched for space? It's usually pretty easy to find an underused corner in your home to use as a home office. Corner computer desks are the perfect choice for small or awkward spaces. If space isn't an issue choose a larger corner desk. Plenty of storage options make it easy to stay neat and organized. Corner desks are available in a wide variety of styles, finishes and sizes. If you need extra storage room go for a corner desk with hutch style shelving or an L-shape.  Some corner desks feature added storage extras like filing cabinets, pull out keyboard trays or shelving.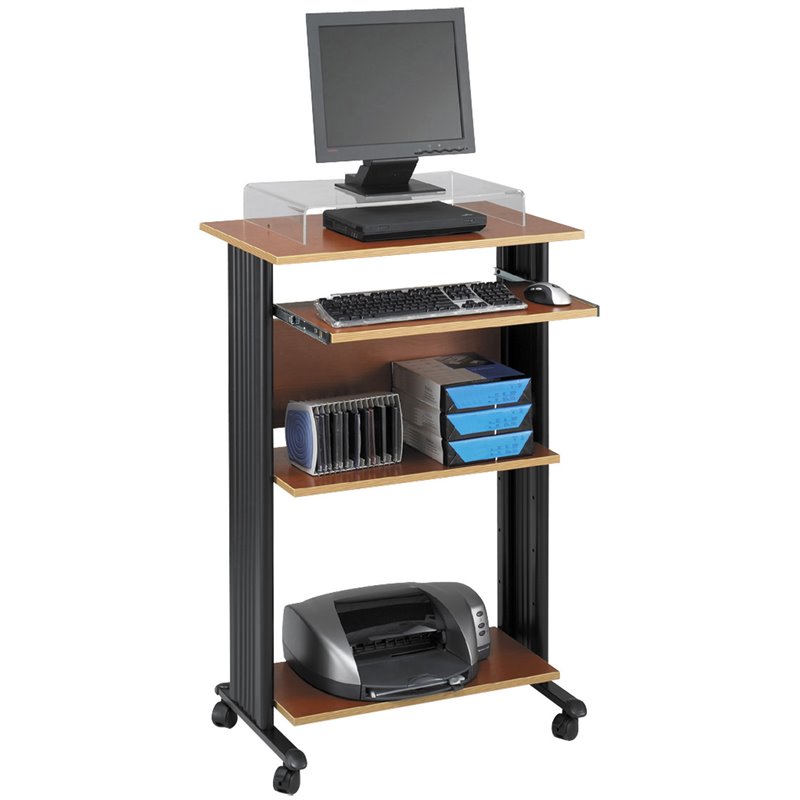 Safco Products Stand Up Workstation
Computer Carts and Mobile Laptop Carts
If you are looking for some flexibility in your workspace consider purchasing a computer cart or mobile laptop cart. A computer cart is a small desk on wheels. Choose from sitting or standing models depending on your requirements. Or go for a simple folding model to save on space when not in use. Consider a model with storage shelves for an all-in-one solution.
 
Lea Midtown Desk in Dark Cherry Finish
Kids Desks
Every kid needs a dedicated space to spread out and get down to the business of doing their homework. A child-sized desk is the perfect solution. These are designed specifically to be a comfortable fit for small bodies. And just as with adult desks, kids desks are available in a number of styles, sizes and finishes. Go for a whimsical and fun design or choose a more traditional style for long-lasting appeal.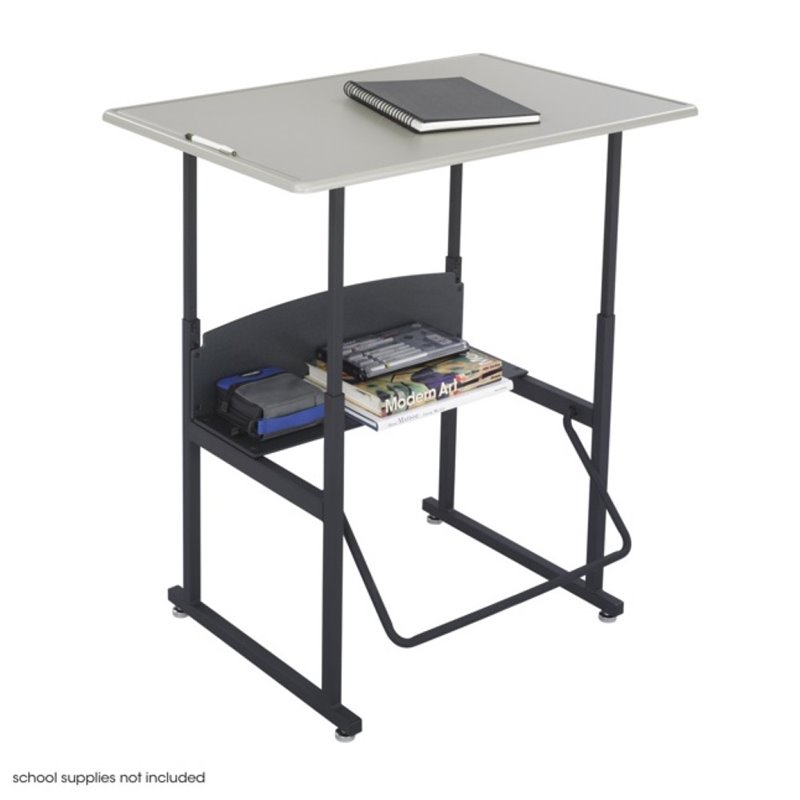 Safeco Alpha Better Student Desk in Beige
Classroom Desks
Classroom desks are of course, most appropriate for the classroom. These small desks are designed to fit just the essentials. They can work in a formal classroom environment or in an office conference area.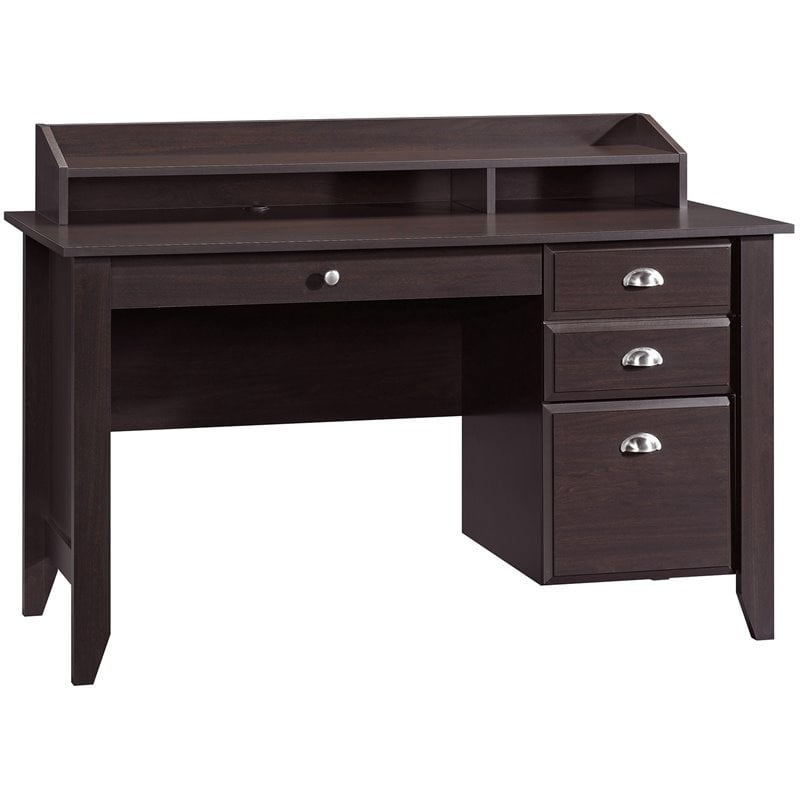 Sauder Shoal Creek Desk in Mocha
Styles of Desks
Desks are available in a range of styles and finishes. Go for a classic look with paneled doors, ornate moldings and substantial hardware or lighten things up with a contemporary design. Oak, maple and cherry are all popular wood desk finishes. For a modern feeling try something in a dramatic finish like high gloss white or deep espresso.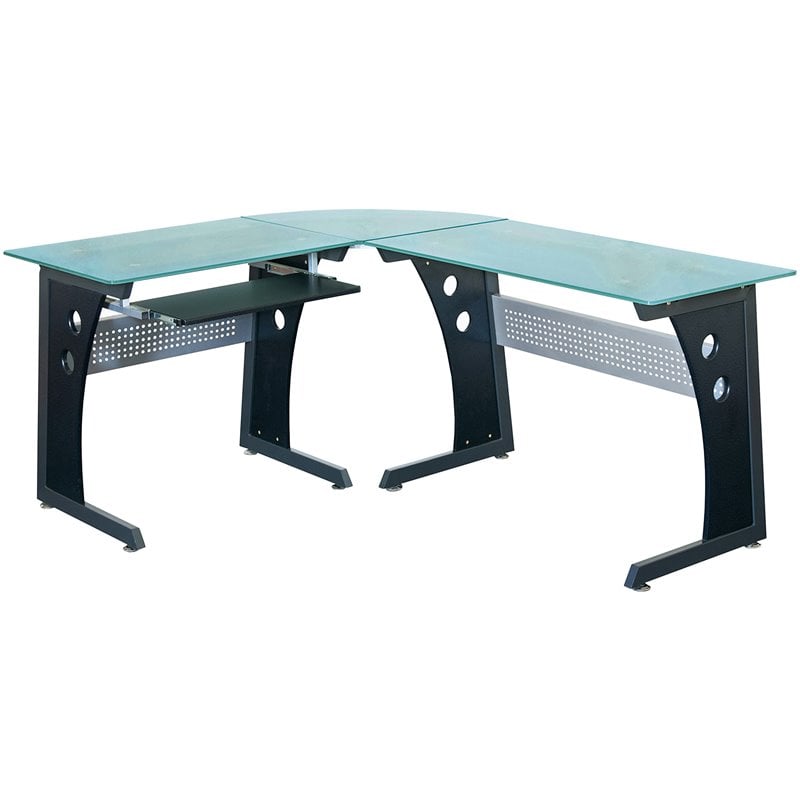 Techni Mobili Frosted Glass L-Shaped Desk in Graphite
Desk Materials
Desks are most commonly found in wood or MDF with a laminate finish. Solid wood can be just that or used in conjunction with a real wood veneer. Solid wood is a hallmark of high quality construction. However a laminate finish will have the look of wood but also be durable and easy to maintain. Â If you are the type of person who constantly forgets to use a coaster under your coffee mug, a laminate desk is probably the best solution for you. For a lighter modern look, consider a metal and glass desk. These desks take up very little visual space which makes them a great choice for small spaces. Desks with tempered easy to maintain but remember that they can also scratch if you are not careful. If you require the ultimate in durability, try to look for a desk specifically designed for a commercial environment.
---
With the mind boggling array of desks available today, choosing a desk can be a complicated task. But making a carefully-thought out list of your requirements goes a long way towards simplifying the task. With a little forethought, you will be sitting at the perfect desk for you and your space in no time.
And don't forget that a desk is only half of the equation! To make a truly comfortable office for yourself you will need to make sure that you also have a comfortable office chair to sit on. Check out our collection here to find the perfect seat for your new desk.
---
---
You might also like
---