Looking to create your very own library? You've got to begin somewhere, and there's no better way to start than with a Safco WorkSpace 60″H Five Shelf Square-Edge Bookcase in mahogany. This bookcase is a great way to show off your blossoming literary collection. Whether you're reading classics like Dickens and Vonnegut, or you're proudly displaying the literary masterpiece that is Twilight, this is the bookcase for you.
This stylish bookcase frames your books beautifully, and comes with three adjustable shelves, giving your more organizational control over your collection. Impress visitors with your favorite hardcovers and paperbacks, either at home or in the office. If you're a bookworm, be proud; show off your collected works.
If you're worried you don't have enough books to fill an entire bookcase, fear not – they're a perfect spot for picture frames, collectibles, plants and other decorative items. If you're looking to expand your literary or simply want to add a great piece of accent furniture to your room, this Safco square-edge, which is currently over 30% off, is a fairytale come true.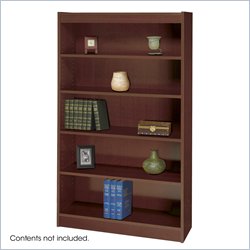 ---
---
You might also like
---