When you're putting together a modern living room or office, remember that simple is oftentimes best. We frequently get caught up in complicated design, thinking the fancier the better. With the Office Star Eco Leather Sofa in Black, less really is more. If you're looking for a cool, sleek and sexy leather sofa that will not only complement the rest of your modern décor, but stand out on its own, look no further.
This beautiful sofa from the Elegazna line is just that – elegant. While simple in design, it's incredibly pleasing to the eye and will definitely add to the stylishness of your room. This economical leather sofa is a combination of faux and recycled leather draped on a wood construction, and comfortable supportive arms sit atop Mahogany finished legs. You'll feel nothing but comfort every time you sit down.
When it comes to buying furniture, nothing comes close to a leather sofa. Perfect for functional use or as an aesthetic piece, you can't go wrong with this leather sofa from Office Star.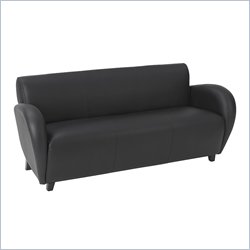 ---
---