Adding a home bar to a family room, dining room, kitchen/dining/living area or den gives the room an inviting and urbane atmosphere that puts the spotlight on you as a savvy host. But what if you live in an apartment or you are furnishing a smaller-sized room? A folding bar like the stylish Modus Spirit Cabinet is the answer.
At first glance, a home bar might appear to be an "unnecessary" furniture piece because it's not as an immediate necessity as say a dining set or a sofa. But with its space-saving design, a folding bar like this beautiful cabinet can be just as functional as a standard home bar, allowing you to keep everything you need to mix a cocktail in one handy place. This elegant folding home bar is superbly crafted, with its leather upholstered front panel doors; rich dark wood finish; and simple, clean lines. Plus that it has room for pretty much just about everything you'll need to be the perfect host or hostess, including bottle storage inside both doors; glass racks and one 16-bottle wine rack.
When you want to entertain in style, look no further than this pleasingly stylish Hudson spirit cabinet by Modus.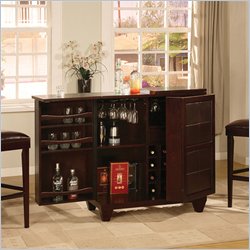 ---
---
You might also like
---