Creating a great living room or media room is about more than just the right sofa. Having the right TV stand for your style and space can give your ordinary room into an inviting atmosphere. Create a room you enjoy spending time in for maximum comfort and relaxation.
Get a look that complements your other furniture, along with the shelving and cabinet space you need to keep clutter from accumulating on your floor, coffee table, and end tables.
How many media playing devices do you own? How about stereo equipment? A library of DVDs? And CDs too? Consider a TV stand versus an entertainment center before you buy.
Storage and television capacity are the key differences. Think of it this way, simple black TV stands are ideal for college students, young professionals, or minimalists with modern urban spaces. When a regular metal or wood TV stand won't meet your needs for style or storage, opt for a larger entertainment center instead.
Upgrading to an Entertainment Center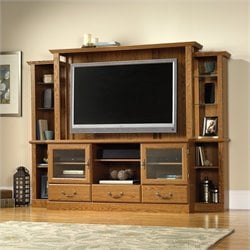 If you're furnishing a suburban family home, your décor may be more traditional and you may need more media storage to accommodate several people's movie, music, and video game collections.
Oak, cherry, and mahogany entertainment centers may feature extra drawers and cabinets, possibly including cabinet doors that conceal your televisions while it's not in use.
---
---