Looking for a way to celebrate this New Year's Eve? Provide the entertainment at your part with this Hillsdale Classic Cherry Game Table. Entertain your family and friends with a variety of different games. Drink, play and be merry during the holiday with this awesome poker table. For a limited time, when you order this game table, you'll receive a free poker chip set.
A game of poker can be greatly enhanced if you've got the proper surroundings, and there's no better setting for a game of cards than this game table from Hillsdale. The cherry finish, faux suede microfiber fabric, octagonal shape and features like cup holders make this the ideal spot for cards. Because it seats up to eight, all of your friends will have the opportunity to play. When the game's over and it's time for food or snacks, it can be converted into a dining table.
Pair this dashing poker table with a set of chairs to complete the stylish look. Add a deck of cards, a set of poker chips and your favorite drink of choice and you'll be ready to kick of 2011 in a big way.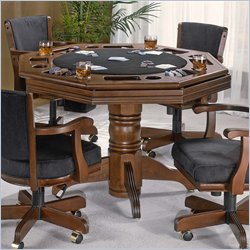 ---
---
You might also like
---