We'll admit that touting an electric fireplace insert as 'sexy' isn't the easiest thing to do. But man are we gonna try! Wouldn't you love to have all the benefits of a fireplace without any of the annoying or time-consuming things that come with it?
Everyone loves having a fireplace. It's a fact. The warmth, the imagery, the snap and crackle – what's not to like? If you've ever owned a natural fireplace, then you know that it's not all smiles and rainbows. With natural fireplaces you have to deal with cleaning ash and residue, the potential chimney fires and the unwanted smoke, not to mention the constant supply of wood you'll need to keep the fire burning. If that sounds terrible to you, then take a look at an electric fireplace insert.
Electric Fireplace Inserts  are the Evolution of Fireplaces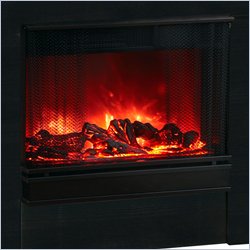 With a fireplace insert, you'll be able to quickly and easily heat up your room in a stylish manner. The LED lights give the illusion of a natural fireplace, along with the comfort that aesthetic provides. The combination of wood inserts and flame are incredibly convincing, and the fan distributed heat will keep the entire room warm and cozy.
If you're worried about losing out on the soothing pops and crackles, fear not! Certain electric fireplace inserts provide those same calming sounds in a very natural and authentic manner.
In this day and age, if you can't manage something with a button then what's the point? With an electric fireplace insert you'll be able to control the heat with a remote, just like your DVD player or iPod. Imagine how impressed your guests will be when you are able to light up your fireplace with the press of a button.
Did we mention that the cost of keeping an electric fireplace insert up and running is relatively cheap, and there's little to no maintenance needed?  A fireplace insert adds elegance and style to any room, and the ease of use plus a lack of maintenance and cleanup are just icing on the cake. Still don't think electric fireplace inserts are sexy? Maybe not, but they sure sound pretty cool.
---
---
You might also like
---