You know that you don't have enough guests during the year to warrant a guest room of its own, but you do need a place to put visitors when the occasion arises. A dual purpose bedroom office is the perfect solution.

Have a Plan
Since the space will be serving two specific functions, any furniture you choose for your guest bedroom office should be  multifunctional. Before deciding what furniture pieces should go into the room, take measurements. Go shopping in your own home first. You might discover a perfectly good desk chair that got stuck forgotten in the corner of the family room.
Bedroom / Home Office Furniture
After deciding what furniture you already own that can be used in your bedroom office, make a list of home office furniture that you will need. This will make it easier to browse online for exactly what you are looking for.
When selecting furniture for a bedroom office, bunk beds are a viable solution. They're not just for kids rooms anymore! Bunk beds come in such a variety that when furnishing a dual purpose room where adults will be sleeping, a full over full bunk bed for example maximizes both the room's floor space and sleeping capacity. A bunk bed that includes futon seating can make your guest bedroom / home office even more functional.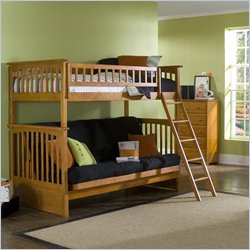 Pulling it Together
Get as much mileage out of your bedroom office furniture that you can. You may not have enough space for a chest of drawers, but by placing baskets on one shelf of a bookcase, your guests will have somewhere to put their personal items. Pick a bunk bed with under-bed storage. Select a home office desk that includes file drawers so that you eliminate the need for a separate file cabinet.
---
---
You might also like
---