Do you spend the better part of your day at the computer typing for work, school or personal projects? If your desk doesn't have a proper keyboard tray, then you know how sore your wrists can get after hours of typing. With the Bush Furniture Articulating Wood Keyboard Tray, you can customize the height and angle of your keyboard so that you remain comfortable now matter how long you're at the computer desk.
The articulating keyboard tray is spacious enough to hold both your keyboard and mouse, and two non-slip strips keep everything securely in place. It can be mounted on a variety of different Series A and C desks, modules and L-Bow desks. The ability to retract under the desk surface when not in use keeps your desk looking tidy and compact.
The Bush Furniture Keyboard Tray features 5.3" height adjustable range, 15" of forward-backward travel, and the ability to tilt 17 degrees down and 10 degrees up with a swivel of 180 degrees both ways.
If you're looking to customize your desk, one of the best steps you can take is adding an adjustable Bush Furniture Articulating Wood Keyboard Tray.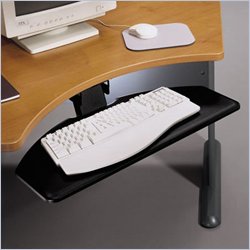 ---
---