It's somewhat of a given that young children going to school will need a desk where they can sit and be comfortable while doing homework. But younger kids, especially toddlers will appreciate a desk they can call their own where they can color, draw, do crafts, practice their ABCs or whatever else tickles their imaginations (as long as it doesn't include your living room walls). When buying desks for children eight and under, it must be a desk your child likes and should have features that will be useful and fun.
Desk Size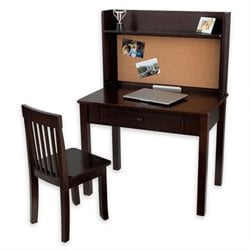 A handy guideline to follow when shopping for a desk for your pre-schooler, is to look for one that is around 19 inches in height. If you're buying the desk for a child attending grade school up to the middle years, select one that stands around 23 inches high. Once you've determined who you're buying the desk for, measure the area so that you know that it will fit in its intended space. Don't forget the chair – it will need about a foot of clearance when it's pulled away from the desk and your child is sitting in it.
Desk Purpose
What will the desk predominately be used for? If you have a child that needs to have a variety of projects on the go at once in order to keep him or her amused, then a table and chair set with storage options might be more useful.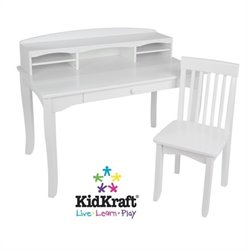 Does your child scribble down words or make up stories or write plays they "con" their friends into performing? Then a writing desk will definitely be the ideal choice.
Does your child constantly draw, want to color or work on crafts? Then an activity table where they can spread out and be as create as they want to be is going to be a good choice.
Other Things to Keep in Mind When Buying a Child's Desk
A desk is a practical thing for your child to have, but only if the desk, table and chair set or activity table is appealing to him or her and they will actually use it. When purchasing a child's desk, keep the following in mind:
A child's desk, activity table or a table and chair set is commonly made of wood, metal or plastic. Make sure that the type of plastic or finish used is environmentally friendly and/or non-toxic.
Desks for children come in a variety of styles and types and include a number of different features. Choose a desk that has age-appropriate features such storage cubbies, shelves or utility drawers. Ensure that any hardware (drawer pulls, lids, etc.) are kid-friendly.
Any desk you select should be well-made. It should stand level and not wobble shake when in use.
Especially if it's a type of desk of table set for a toddler or young child that has a "shelf-life," (probably won't be using it into they teen years) consider how much you want to spend, then set a budget.
---
---
You might also like
---