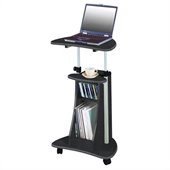 In the era of laptops – and now netbooks – setting aside space in your home for a computer desk isn't the same task it used to be. If your computer is portable, you may be wondering if you still need a desk. We've got a few questions to help you sort it out.
Do you use your computer most often at home or in public places?

Are you constantly searching for a good spot to work?

Some of us choose portable computers to have the option available, even if taking the computer on the road is an infrequent occurrence. You may have a work spot set aside in your living room, bedroom, or even your kitchen table.
But if it's inconvenient, uncomfortable, or surrounded by distractions, you may find yourself struggling more than you should.
If you're workspace looks more like a TV tray, night table, end table, or corner of a dining table, it really might be time for a dedicated work area. And you have more room than you think. Smaller desks can accommodate a laptop or netbook – without a keyboard tray or a bulky tower storage cubby shelf you don't need.
---
---