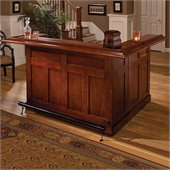 Adding a home bar is an entertainer's dream. Having a comfortable, stylish space to enjoy a few cocktails with guests adds an element of sophistication to events ranging from dinner parties to game nights.
Today's home bars come in a variety of styles and finishes, many with all the bells and whistles that can make your home bar more like a 'real' bar.
Given how many features you can mix and match, it's definitely worth your while to do some research up front to see what combination of form and function will best serve your needs.
Bar Design Selection & Feature Options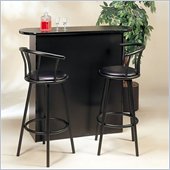 Having the right home bar furniture can take your space from serviceable to extraordinary in a few short steps. Will a traditional oak bar with molding accents better suit your space? Or is a sleek, modern black bar a better fit for your taste in décor?
Look for the features that matter most to you. You'll find bars with a sink, also known as a wet bar, a fridge, ice machine, draft system, lockable cabinets, or models with a wine rack built in.
Choose a bar set with bar stools to have your space ready to go more quickly. More discerning designer-types will probably want to install their modern or traditional bar first, get a feel for how it works with the space around it and add bar stools as needed or desired.
If you think your space is probably too small for bar furniture, or if you may move again and want to take your bar with you, keep in mind the available mini bars and folding or portable bars.
You may also decide to add smaller pieces of furniture to your home bar, enhancing the atmosphere further. Consider add-ons like glass racks, wall-mounted wine racks, cellar shelving (which is nice in basement bars), and baker's racks with wine storage.
The sky really is the limit in terms of style, features, and price range, so use your imagination, and then start browsing online.
---
---