We are happy to announce the winner of our Linkedin/Twitter Giveaway for $125. Jen, (@EveryDayJen, formerly @jen276here) was the first person to tell us that we rank 168th on the Internet Retailer Top 500 rankings for 2010, and DM us with her LinkedIn account information for verification. Jen has told us that she plans on buying a Sauder Harvest Mill Console Table valued at $155.00 with free shipping, and is more than happy to part with $30 for the unit. Congrats Jen, on winning the giveaway, and picking a great unit for your home, we can't wait to see the pictures.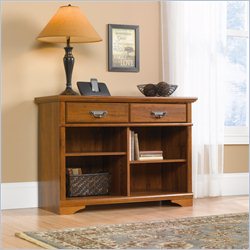 Harvest Mill Console Table – $155
Jen is a blogger, and maintains the blog An Every Day Family, where she writes about tips on raising a family of young kids.
For those that weren't as lucky as Jen, we are currently running a series of $50 gift code giveaways to Cymax through our twitter account, @cymaxstores_. We will be having several more giveaways during the month of November, it's a great bonus to get ready for the holidays.
---
---