Still looking to do some last minute holiday shopping for the kids? Sure, Christmas is right around the corner, but here's a look at our favorite toys of 2010.
Little Tikes Giddyup 'N Go Pony Ride-On
If you follow our blog, you know how much we love the Little Tikes Giddyup 'N Go Pony. Combining old-school appeal (riding a toy pony) with modern technology (your child can actually ride this pony!), there's not a more exciting and fun ride-on toy out there. Your little guy or girl will spend hours riding the Giddyup 'N Go pony indoors and out.
Melissa & Doug Deluxe Easel
Encourage your child's creativity with this wonderful Melissa & Doug Deluxe Easel. Nothing puts a smile on a kid's face like experimenting with different colors and allowing their imagination to take them to new places. Whether they're finger painting or experimenting with water colors, your child will love this Melissa & Doug easel.
Melissa & Doug Jumbo Brown Teddy Bear Plush Stuffed Animal
With so many toys out there with multiple bells and whistles, bright lights and loud sounds, sometimes it's nice just to have something big and soft to hold. The Melissa & Doug Jumbo Brown Teddy Bear provides exactly that. In a world filled with video games, iPods and cell phones, the teddy bear remains one of the best gifts you can give.
KidKraft Fun Explorers Rocket Ship Play Set
Let your child's imagination reach for the stars with the KidKraft Fun Explorers Rocket Ship Play set. This unique rocket play set features 25 pieces, including astronauts, robots and even aliens! This bright and colorful toy is an exciting way for your child to tap into his or her innovative side. If your child is an explorer at heart, then you can't go wrong with this rocket.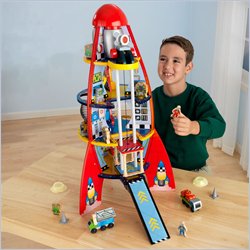 Razor RipStik Caster Board
If you have an older child who's aching to get out on his own and be active, then the Razor RipStik Caster Board fits the bill. The unique design allows kids to replicate the carving motion found in snowboarding or surfing. The construction of the board allows for forward movement without ever having to push off the ground, and the youthful and fun design is absolutely eye-catching. If your child loves snowboarding, surfing or skateboarding, this will be a welcome gift under the Christmas tree.
---
---
You might also like
---