Choo Choo!! That's the sound of your little conductor letting his imagination run wild with the KidKraft Ride Around Town Train Set with Table. This beautifully detailed table not only features a functional train set, but also a bright, colorful and realized city for the train to pass through. Your child will fall in love with the bustling city that is right at his fingertips.
The train set features 100 pieces, including charming members of the community, a moveable crane, hospital and ambulance, an airport with a runway and helipad and much more. The city will come alive with the help of your youngster, who will have the task of making sure everything runs smoothly, including the trains! The train and other vehicles will roll across bridges, around lakes and even through a work site.
With so many pieces available and such a diverse cast of characters, this train set will provide hours and hours of creative fun. This is a great toy to get your stoke the flames of your child's imagination, so throw some more coal in the furnace, blow the horn and pickup speed. Destination: fun.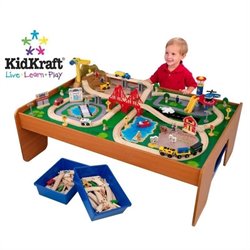 ---
---