There is nothing more integral to a good night's sleep than a comfortable mattress. No one wants a restless sleep or to suffer back problems caused by a poor quality mattress. It may seem like a big expense but when you remember that you spend one third of your life in bed then you will see why it's so important to choose a good quality one.
If you are thinking that it's time for a new mattress, then it probably is. The average mattress has a lifespan of about 5-7 years. However if your mattress dips or sags or collapses when you sit on it, it is probably time for a new one. Other signs that a mattress needs replacement are coils or wires that have sprung loose as well as excessive creaking.
So now that you've determined that it is time to make a purchase, you will want to do a little research to determine that you are buying the best mattress for your needs.
Simmons Express Beautyrest Elements Mattress
Determining Your Budget
One major factor in the purchase of a new mattress is price. There is a huge range in price on the market these days ranging from the hundreds of dollars to the thousands. However, there are also great options available at every price point. In general a cheap mattress will be of lower quality but bargain hunters should note that there are frequently great deals to be had on higher end products. Mattress sales and discount mattresses are pretty easy to find. It's a good idea to do some research first to get an idea about quality and then be sure to compare several models that are within your price range.
Simmons BeautyRest NXG Progressive Latex Gel Plush Drop Top Mattress
Types of Mattresses
Innerspring mattresses are made of an interior coil system. The quality of a coil system can vary widely depending on factors like the gauge of wire to the total number of coils. In general, more coils equal better support and a better night's sleep. Innerspring mattresses come in a variety of styles including pillow top or no-flip.
A popular alternative to the innerspring mattress is the foam mattress. Foam mattresses fall into two categories: memory foam or latex.
Memory foam was originally designed by NASA to relieve the extreme g-forces that astronauts were subject to during lift-off. In the 1980s a consumer version became available. A memory foam mattress has the ability to conform to the shape of a person's body but springs back to its original shape, making it an ideal choice for mattresses. Memory foam also heats up with body temperature and will soften in areas that are higher temperatures. This can be a very relaxing sensation but some people will prefer the feeling of a slightly more firm latex mattress.
Latex is another option for foam mattresses. Latex has a higher elasticity than memory foam which makes them feel springy, especially when compared to a memory foam mattress. The latex foam will seem to press against the body in an effort to return to its original shape, which may or may not be more comfortable.
Latex is available in natural or synthetic varieties. If you are worried about VOCs or if you suffer from allergies, you might want to choose a natural latex mattress. Natural latex is also biodegradable and inherently resistant to bacteria, mold and dust mites. In comparison, a synthetic latex mattress will usually be less expensive and more firm than natural latex. The most common of all is a mattress made of a blend of synthetic and natural materials.
A foam mattress is typically built in the same fashion. Up to 4 different layers of foam are combined together, with a durable layer at the bottom and a soft layer at the top. This gives the mattress shape but allow maximum comfort to the sleeper. Foam mattresses also typically last longer than regular mattresses. A good quality foam mattress can last up to 20 years.
Simmons High Quality Beauty Sleep Mattress
Type Of Coils
Coil mattresses are still the most common type of mattress. But there are four major types of coil mattresses available to choose from.
The Bonnell Coil System
The Bonnell coil system is a series of hourglass-shaped coils which are tied together by thin spiralling wire. This was the first type of mattress coil system and it's still extremely common today. The maximum number of coils in a Bonnell spring mattress is 364 (on a full size), which is on the lower end of the scale. However, it also tends to be the least expensive type of mattress which is great for those on a budget or for those places where the mattress is not used regularly (spare rooms etc.).
Offset
Offset coils are very similar to Bonnell coils, in that they are both hourglass shaped.  Offset coils have squared off tops and bottoms for maximum support.  The flat segments of wire are hinged together with helical wires. The hinging effect of the coils has been designed to conform and support the body.
Continuous Wire
Continuous wire mattresses are created from a single wire, which is often more than 590 feet long. Â Continuous wire mattresses tend to be the strongest but do not necessarily offer the most support. They also tend to be on the firm side, which may or may not be ideal for you.
Individually Wrapped Coils
Individually wrapped coil mattresses, which are also called pocket coils or Marshall coils, have thin-gauge, barrel-shaped coils individually encased in fabric pockets. Because they are not connected, they are a great choice for couple's because one sleeper's movements will not disturb the other. This type of mattress offers excellent support for the back, which is ideal for those with back problems. These mattresses also tend to be the most expensive but a great night's sleep makes them worth the extra expense. Watch out for cheap individually coiled mattresses on the cheap side as they can sag quickly as they are sometimes non-tempered.

Simmons BeautyRest Elite Willett Plush Firm Evenloft Mattress
How Many Coils?
The total number of coils in your mattress has a strong effect on the overall firmness and quality. In general the more coils, the higher quality the mattress. Most mattresses tend to have 300 to 800 coils, with the 500 to 800 range considered "firm". However a lower number of coils can also indicate a higher quality mattress if they are made from a higher gauge wire (14 gauge or lower).
Another factor to consider with a coil mattress is the number of working turns. A working turn is the total amount of turns that a coil has. For example, a coil with four working turns will not be as resilient as a coil with eight working turns. When this is multiplied across the total amount of coils on a bed, you will begin to understand why this calculation is important. The higher the total number from this calculation the more durable your bed will be.

Wolf Mattress Super Sleep Mattress
Flip or No Flip?
A trend on today's market is the no flip mattress. These mattresses are designed to save you from having to flip over your mattress twice a year. This might sound like a great idea but since these mattresses only have upholstery and padding on one side, they will also last half as long as a similar normal mattress. But if you still love the idea of a no flip mattress then they can still make a wise investment.

7 Medium Soft Win Size Memory Foam Mattress
Mattress Sizes
If you have an existing bed frame or headboard you will already know what size of mattress to choose. But if you are starting from scratch you might want to consider what size is right for you. Generally people prefer the largest size mattress available but you will also be limited by the size of your home and your budget.
Here are some the most common mattress dimensions for North American beds:
– King mattress (also called Standard King or Eastern King) – 76″W x 80″L A King sized bed is the same size as two twin mattresses together and provides ample space for two people.
– California King mattress (also called Western King) – 72″W x 84″L California King-sized are not as wide as King sized beds but they are longer. However bedding for this size is not as widely available as bedding is for king or queen sized beds.
– Queen mattress – 60″W x 80″L
– Full size mattress (or double mattress) – 54″W x 75″L
– Twin mattress – 39″W x 75″L
Simmons BeautySleep Edgemere Firm Mattress
How Firm?
The old wisdom was the firmer the mattress, the better it was considered for your back. But there has never been any research to back up this claim. Today it is wise to go for the level of firmness that is right for you. Chiropractors maintain that your spine should look the same when lying down as when standing up, which might not happen with a very firm mattress. This requires a mattress with a bit more give, especially if you sleep on your side. Your mattress should also distribute pressure evenly across the body. This will help with circulation, decrease body movement and minimize the transfer of movement from one partner to another.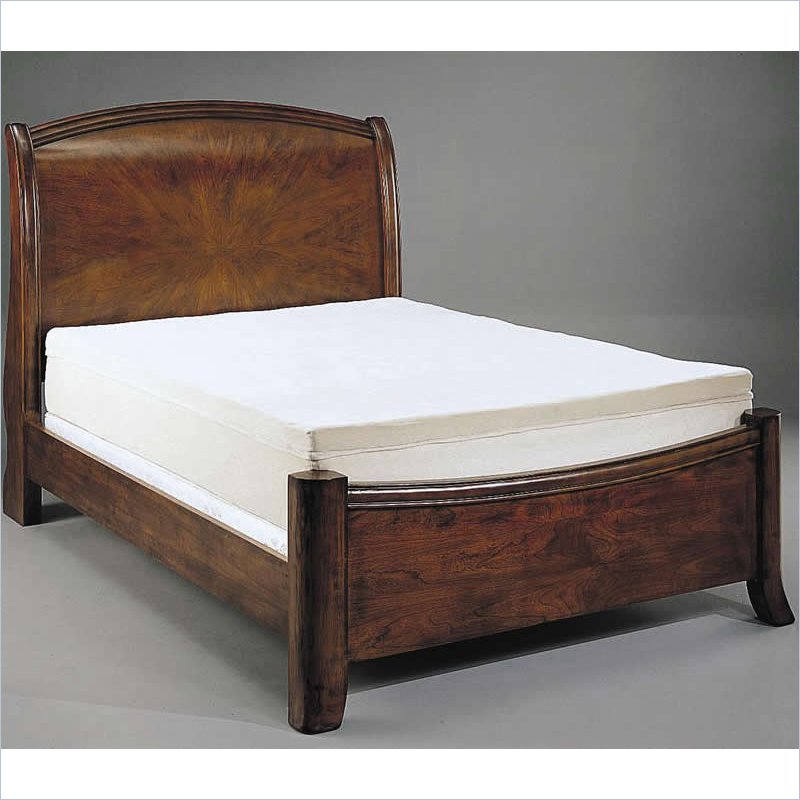 Coaster Nicoli 8 Memory Foam Mattress
Choosing a Pillowtop
If you are looking for an extra layer of comfort, a pillow top mattress is a great choice. These mattresses have an extra layer of cushioning for softness on top of a supportive base. This might be a great choice for you if you require extra cushioning although an another option would be to purchase a mattress topper or a mattress pad. There are several different types of pillow tops on the market ranging from polyester fill to sculpted foam to coils. Each offers a different level of comfort for the sleeper so be sure to compare ahead of purchasing. The most common type is polyester fill. Don't worry about what the name is. Each brand will call their pillow top mattress something different.  You will need to read the details to find out what you are actually getting.

Simmons BeautyRest Classic Northfield Plush Firm Mattress
A Good Foundation
When it comes to choosing a foundation for your mattress, you have several options. Some modern platform beds no longer require the use of a boxspring. If you are unsure of whether you need one or not, check the height of your bed frame or headboard before making a decision.
If you have the choice between buying a boxspring mattress or not, it's wise to consider that a boxspring will prolong the lifespan of your mattress. The ticking and padding can wear out more quickly without one.
A boxspring is the most common type of foundation for a mattress. A boxspring provides firm support but still has an impact-absorbing coil inner structure. Boxsprings are designed to be used with a coil mattress and since they absorb up to 50% of the impact, it is important to use one that is the right fit for your mattress.
An alternative to a boxspring is the box foundation. A box foundation does not have inner coils. Box foundations are designed to be used with foam mattresses. Do not use a box foundation with a coil mattress as it can cause the mattress to break down more quickly.
Simmons Natural Care Keesevill Ultra Plush Mattress
Safety Concerns
No matter what type of mattress you choose, you can rest assured that all mattresses sold in the United States must conform to fire safety standards.
Simmons BeautyRest Elite Willett Plush Firm Mattress
A Word on Warranties
Most mattresses carry a warranty but they vary from manufacturer to manufacturer.  It's also wise to note that most warranties will require your original receipt as well as the law label from the mattress. It's also good to note that a warranty will only cover any manufacturer's defects and usually won't cover regular wear and tear.
---
Getting a good night's sleep is an important part of a healthy lifestyle. Choosing the right mattress is the easiest way and most effective way to improve your sleep quality. It might be a large expense but it is one that is totally worth the feeling of being well rested.
---
---
You might also like
---