While French country is a very popular style for a girl nursery, it can work just as well in a boy nursery, creating a baby's first bedroom that has a relaxed, casual feel full of enchanting country charm. With its roots in more formal traditional styles like Louis XVI or Rococo, French country evolved and adapted to reflect life as it is lived in rural France away from cities and towns. By featuring traditional "boy" nursery colors, baby furniture or accent pieces with hand-painted detailing and French country motifs such as roosters or harvest scenes, you can create a nursery with a rustic appeal that is warm and inviting, yet sophisticated too.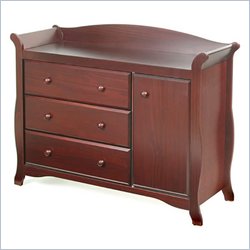 Another great thing about a French country baby boy nursery design is its eclectic nature. French country is all about mixing the old with the new. Eclectic décor styles like French country are well-suited to the budget conscious because you don't have to make everything match; the new antique reproduction crib can be happily paired with a flea market find dresser or armoire.
Typical wall palette colors for a French country nursery recreate the warm tints and shades of the earth and sky found in a rural setting. While floral patterns for wallpaper borders, window treatments and themed crib bedding are popular in French country décor so are other motifs more in keeping with a boy nursery, such roosters, farmyard animals, particularly the cow, and harvest fruits and vegetables. To make the nursery a truly welcoming place for your baby boy, in addition to the crib, the other must-have pieces of baby furniture you will need are the changing table, a dresser and a rocking chair or glider.
Accessorizing a French country boy nursery should have the look and feel of a cozy nook in a comfortable country farmhouse. Sepia photographs of pastoral views in wrought iron frames would add an air of authenticity, as would crisp crib bedding in white or "washed" colors, embroidered accent cushions, or a distressed bookcase or a stenciled toy chest.
---
---
You might also like
---