Home -> Bar Stools -> Bar Stools Buying Guide


Bar Stools Buying Guide
Buying a Home Bar that will Really Impress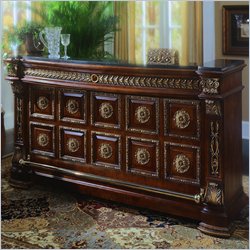 Today when more of us than ever are opting to stay at home to entertain, adding a home bar to your dining room or living area is a surefire way not only to stretch your budget, but to also relax and kick back in style. A home bar is the ideal spot for pre-meal drinks; an inviting place to chat with friends; and a great place to hang out while watching the game. Home bars have the added advantage of consolidating your liquor collection, glassware and bar accessories in an attractive and easily accessible cabinet rather than hiding everything away in kitchen cupboards. With its air of sophistication that hints at fine living, the home bar is rapidly gaining the reputation as a must-have accent furniture piece. To ensure that you get the home bar of your dreams, this brief guide outlines things to look for when buying one for your living space.
Location / Space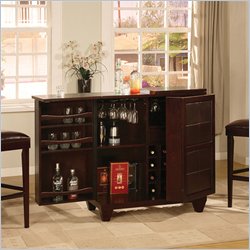 Where your home bar is going to be located will play a big role in what type and size of bar you choose. Decide which room and then measure the area. Had an impressive wrap around bar in mind, but it just won't fit in the intended space? Don't despair – manufacturers offer a variety of styles, designs and models in a number of sizes intended to suit any environment.
Unless it's a wine cabinet, server or console, a home bar almost always needs to be some distance away from the wall to facilitate the server's ability to access bottles, glasses, etc. to bartend. Don't forget to take this into account when you take measurements.
While you want your new home bar to be the focal point of the room, you don't want it impede traffic flow, especially when people are sitting at the bar. For this reason, some people choose to locate home bars in a corner of the room, allowing ease of access while adding an inviting quality to the room's décor.
Home bars are typically used in combination with bar stools. If you intend on adding bar stools to your home bar setup, you will need to make room for these as well.
What else would you like to include? If you intend to add a fridge and/or sink to your home bar you will need to make allowances for plumbing and power sources.
Purpose / Function
What will be the main purpose of your home bar? Do you want it to be a permanent fixture in your living or family room? Then select a spacious console piece with seating options and a full complement of amenities, such as a stemware rack, utility drawers and a cutting board. You really like the idea of a home bar but do you want it on display when it's not in use? Perhaps a folding bar or a compact home bar with swing open doors will be a better choice for you.
Volume / How Many
You will want to ensure that the storage capacity of any bar's cabinetry will meet your specific requirements. While many manufacturers will list a maximum bottle capacity for wine racks, most home bars do not mention capacities for other types of liquor bottles and only provide cabinet dimensions. Try to work out how many bottles you can comfortably and safely store in each cabinet. For example, let's say a cabinet is 16" H x 16" W x 14" D – with the base diameter of a standard 26-ounce liquor bottle being 3.5", you could put 4 bottles wide and 3 rows deep for 12 bottles in that cabinet.

No need to crunch numbers exactly, but this little formula will give you an approximate idea of how much a liquor cabinet can actually hold.