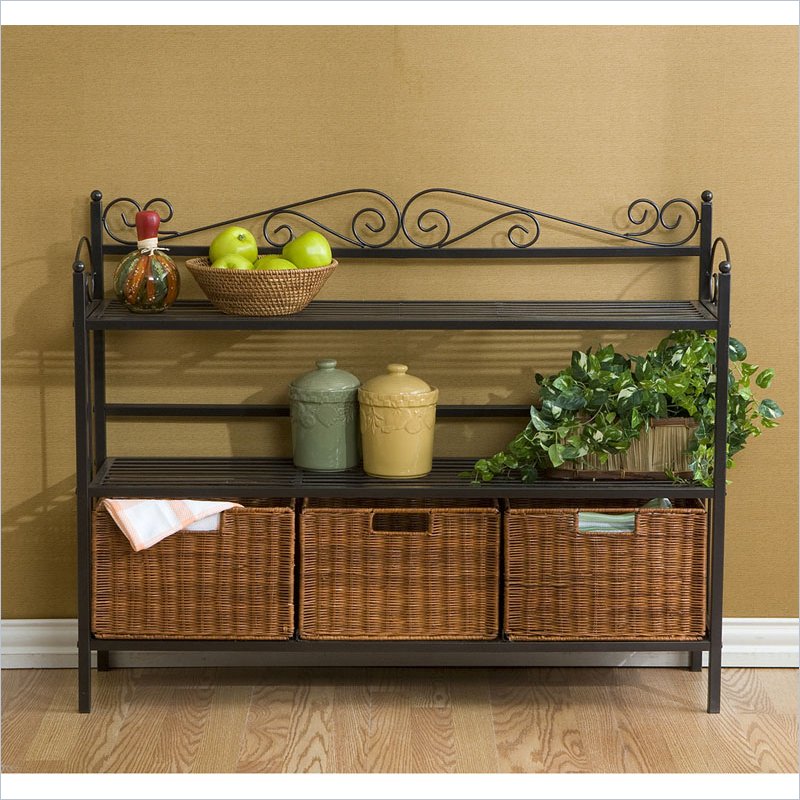 Different Types of Kitchen Accent Furniture
Bakers Racks
Originally made of wrought iron and used to cool batches of breads, pastries and pies fresh from the oven, today bakers racks have become a popular choice for displaying china, knickknacks and toiletries. Depending on the style, they can be elaborately ornamental; typically they combine shelves with a countertop and are made of wood or metal or a combination of both. The flat work surface is a good place to roll out dough or decorate cakes and cookies.
Bakers racks can incorporate features like compartments for wine bottles, stemware racks and enclosed cabinets with glass doors. They also might include a silverware drawer, wicker storage baskets or a removable serving tray. They are so versatile that they can be used virtually in any room of your home, even the outdoors. Outdoor bakers racks are an ideal place to repot a plant or store small gardening tools. When purchasing a bakers rack, make sure that it will be suitable for the purpose you are buying it for.
Etageres
When a bakers rack is used outside of the kitchen, it is sometimes referred to an etagere. Popular in France in the late 18th century, they were crafted almost exclusively as decorative furnishings for the corner of a room. They combine the features of a bakers rack with display shelving. Etageres are considered to be lighter pieces of furniture than bakers racks. They can showcase ornaments, provide additional storage and hold a small collection of books. Etageres not specifically designed to be placed in a corner, can provide alternative shelving options that are whimsical and appealing.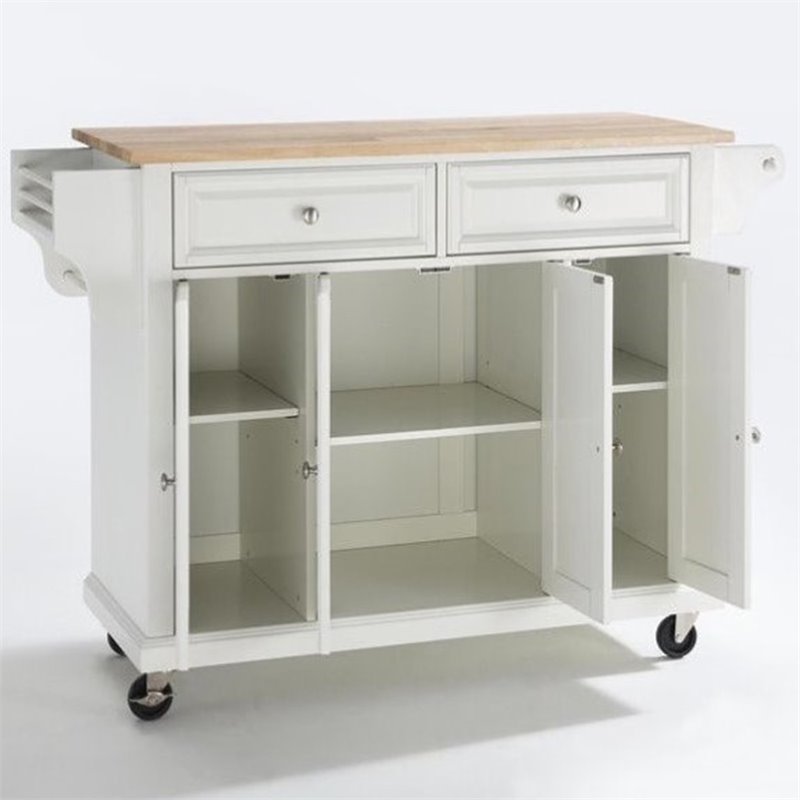 Kitchen Islands
Kitchen islands are ideal for creating more work space for food preparation or baking. They can increase the amount of available counter space in your kitchen and provide storage for pots and pans and appliances. Intended for larger spaces, they can include drop-leafs, casters, multi-tiered bases and countertops designed for specific tasks like chopping or cutting.
Kitchen islands that provide expandable counter space, either by a drop-leaf or a pull-out board, are ideal for kitchens with limited space. But consider where in your kitchen the island will go; take into account how much room you will need to walk around it and for opening cupboard doors or extending the drop-leaf. If you are buying one for a particular purpose such as food prep, you might want a kitchen island with hooks so that you can hang often-used utensils next to your work area. Decide beforehand, what will better suit your needs—open shelves or cabinet storage; narrow drawers intended for cutlery and utensils, or deeper drawers suited for pots or small appliances.
Kitchen Carts
Kitchen carts differ slightly from kitchen islands in that, while they also increase work and storage space, they are generally smaller and more compact. They are usually mobile and many models do include locking casters for added safety and stability.
Utility carts, like kitchen carts, include a work surface and general storage space, while having the added benefit of being mobile. They can be used to house a microwave, be a place to make coffee or store often-used items such cereal or tea.