Home -> Cribs -> Cribs Buying Guide


Cribs Buying Guide
Baby Cribs that Will Melt Your Heart – Not Your Wallet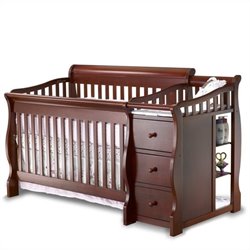 Furnishing a nursery helps both mom and dad prepare domestically and emotionally for baby's arrival. Naturally, parents are excited to get started on nesting process of acquiring baby nursery furniture, but it helps to be prepared. Specifically, did you know that starting with the crib is a great strategy?
A baby crib is the piece of furniture that will anchor your nursery's décor. If you purchase your crib first, the rest of your baby nursery furniture can be selected to complement it. Your baby's crib should get you excited about welcoming your little bundle home, but you'll want to keep a few practical factors in mind. Think about cost, scalability, storage, and, of course, style.
Baby Cribs for All Budgets
If your budget isn't flexible, keep your price range in mind and try not to look above it. Discount wood cribs and metal cribs can be just as safe and functional as more expensive cribs, but you won't be excited to unpack your new crib if you had your heart set on a luxury model.
However, if you want an opulent baby crib and your budget isn't a concern, browse brands like Young America cribs for an idea of what's at the higher end of the market. Whatever price range you look at, the selection of charming designer cribs for babies is impressive.
Think Ahead with Convertible Cribs
The term convertible crib might get you thinking about sports cars, but we're suggesting something a bit less racy. Convertible cribs have components that can be removed or rearranged so that you can keep the same piece of baby nursery furniture when your child needs a toddler bed, and possibly even an adult twin bed.
You might be able to better justify the expense of a temporary bedside bassinette if you've invested in one of the more versatile convertible cribs that will last your child for many years.
When considering convertible cribs, look at the style and finish with extra scrutiny. Your toddler might not care, but will your growing child still appreciate the design? Or will you be asked for new bedroom furniture when your son or daughter outgrows the color or characters?
Space Saving Baby Furniture – Cribs with Drawers
Smaller nurseries in compact or urban homes are more and more common these days. Fortunately, manufacturers of baby nursery furniture are paying attention and you have a great selection of trendy cribs that cleverly include storage features to help you make the most of your space.
Even if you're designing a very minimalist nursery, you'll find that many cribs for babies can include storage features like a trundle and matching (attached or separate) set of drawers. In the case of convertible cribs with drawers, you can select a model whose drawers can also serve as a nightstand after you've expanded the bed frame with additional conversion rails.
Look at convertible cribs in all sorts of finishes like cherry and espresso, or stick to basic cribs if you prefer to keep it simple. But no matter what kind of nursery you've been imagining, cribs should be your first stop. Whichever style you choose, you'll be all set to start looking for the remaining baby nursery furniture that will make up your new child's first room.