Home -> Sleeper Sofas -> Sleeper Sofas Buying Guide


Sleeper Sofas Buying Guide
Sofa Bed Buying Guide: A Sofa You'll Love to Sleep On

Constantly have family and friends asking to spend the night, but you don't have anywhere for them to sleep? If your home doesn't have a spare bedroom or guestroom, what are you supposed to do? A sofa bed eliminates all of these problems, and won't take up any more space than a regular couch would.
Before you buy the first sleeper sofa you see, take a moment to consider exactly what your needs are, and what choices you have.


Why A Sofa Bed?
Sofa beds are incredibly handy for households that don't have enough extra space for another sleeping arrangement. Sofa beds are incredible space savers, and modern sofa beds are just as comfortable as the real thing. Sofa beds can be transformed with minimal fuss, making any sort of cleanup or rearranging a non-issue.
Sofa Bed Size
Depending on the size and shape of the room, you'll be able to find standard sofa beds, love seat sofa beds, convertible sofas and sectionals. Sectionals and some standard sofas come with queen sized mattresses, and the majority of standard sofa sleepers give you a double mattress. These are great if you need the bed for more than once person, but they'll obviously take up more space.
If you're concerned about space, or if the bed will be used mostly by children, a twin sleeper sofa could be the solution to your problems. Because the main function of a sofa bed is to act as a couch, you want to make sure that it's just as comfortable in sofa mode as it is as a bed.
Sofa Bed Style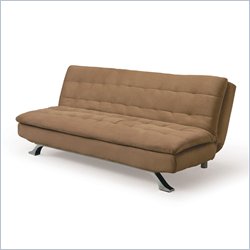 The most popular type of sofa bed is the pull-out, but there are different types of sofa beds to choose from. A flip-out sofa bed doesn't have a mattress, and instead just folds out into a bed. A-frame sofa beds are formed out of the back and seat of the couch, and 'click clack' into place. It's up to you as to which style of sofa bed you choose.
Things to Watch Out For
There are a few things to look for when you find a sofa bed. Make sure that in both its couch and bed form, the sofa bed doesn't sag in certain spots. If this is the case, you'll find yourself uncomfortable after spending an extended period of time on the sofa bed. The sofa cushions and the mattress should both be completely level, with no dips or bumps.
When you're transforming the sofa into a bed, it should be a quick and smooth process. If there is any grinding, jittering or screeching, something is wrong. Sofa beds are designed to be transformed on the go by the average person. Finally, make sure that the bed frame fits back into the sofa even if the bed is made. Make sure that all of the blankets and sheets fit inside when the sofa is closed.