Home -> Console Tables -> Console Tables Buying Guide


Console Tables Buying Guide
Maximize the Versatility of Sofa & Console Tables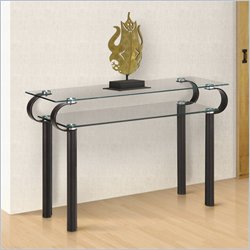 While considering the purchase of a console table for your home, it's important to remember how versatile these furniture tables can be. Ask yourself what you're trying to achieve in terms of functionality and design to select the right model for you.
It's tempting to simply let your inner interior decorator loose while you browse and find an attractive black console table, cherry console table, or wood console table that you absolutely fall in love with. But the critical first question to ask before you start to shop is where in my home will my table go?
The Right Spot for Your Console Table
Console tables are a sophisticated furniture choice that can enhance a number of spaces in your home. However, most do claim floor space, so it's important to think carefully about where yours will work best. If space is at a premium, a select number of smaller console tables are available.
An entryway is a great spot for a console table and mirror combination. Accent with a piece of artwork and key catcher dish, or leave room for sunglasses and a wallet. Select a tiered console table to reserve a spot for umbrellas, reusable shopping bags, or any other item you'll find handy by the front door.
In your living room, think about placing your console table behind a free-standing sofa or against an accent wall. In both spots, you'll have display space for potted plants, vases, candles, bric-a-brac, and travel treasures.
Furniture Tables that Unify Your Decor
What could be more refined than a set of designer furniture tables featuring powerful photos or exotic plants and a tasteful crystal bowl or perhaps a captivating sculpture? When you select a console table that works with your other furniture tables, you're one step closer to a magazine-worthy interior design.
Many manufacturers coordinate console tables with other furniture tables in matching or complementary sets. If you own a set of designer end tables or a brand name coffee table, finding your ideal console table could be that much easier.
Even on its own, a console table can make a dramatic statement. Look for an antique inspired wood console table and upgrade your living room with a regal Victorian feel. A black console table can make your space feel like a polished gallery.
Smart Console Tables
Yes, many models require ample floor space, but the standard console table, either rectangular or crescent-shaped is designed to stand against a wall or sofa. So finding room for a console table isn't as challenging as you might think.
Cabinet-style or tiered console tables add the element of storage that can make your table as practical as it is stylish. Sofa & console tables can incorporate drawers and shelves, merging the functionality of a book case or dresser with the stylish display options of an end table or pedestal.
To rein in your budget, find console tables on sale that allow you to review the most wallet-friendly options. The list may not include furniture tables you've been dreaming about, but chances are you'll still find something that works if cost is your top priority.