Home -> Ottomans -> Ottomans Buying Guide


Ottomans Buying Guide
Innovative Ottomans: Coffee Tables for Your Feet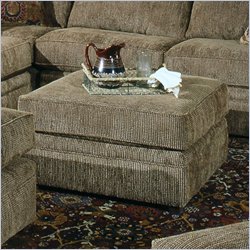 The phrase, "get your feet off the coffee table," need never be said again in your house with today's selection of coffee table designs. The traditional use of a coffee table has been a surface for books and drinks. While an ottoman has been primarily a padded footrest.
Break the mold in your home with a coffee table ottoman. Contemporary interiors are now incorporating large flat-topped ottomans that do double-duty as coffee tables. As a space-saver and an added level of comfort, these coffee tables are sure to be a conversation piece.
Ottoman Coffee Tables
Firmer padding is the first thing you'll notice about a coffee table ottoman. Also referred to as a cocktail ottoman, these clever design hybrids come in leather, chenille, microfiber, and other upholstery fabrics.
If you plan to lean towards the coffee table use of your cocktail ottoman, look for the flatter surfaces as some variations with buttons or 'tufted' tops are too uneven for resting glasses of liquid. You can also supplement ottoman coffee tables with a small tray for added stability.
When you opt for a centrally displayed round coffee table ottoman or a square model to tuck neatly in with a sectional sofa, the availability on the market will be a pleasant surprise.
Traditional Ottomans still Plentiful
Members of your family may still be craving a plush foot-only space they don't have to share with plates and cups. Rest assured that ottomans continue to be available in many sizes with soft pillow-like tops.
Long bench-style ottomans and individual round, rectangular, and square models give you the flexibility you need to select the perfect piece for your living room set.
Forgoing the coffee table ottoman and moving beyond the personal footrest size, you have the option of a handy storage ottoman. Hinged and removable lids open to reveal a space for books, toys, DVDs, or any other living room clutter you'd like to quickly clear away.
Choose an ottoman with drawers for magazines and remotes. Opt for a larger trunk-style model to store blankets and throw pillows. Storage ottomans also come with trays for food and drinks or removable baskets that keep the contents of your ottoman easily visible.
Console Table with Ottoman Accent
Naturally, you'd like to coordinate your ottoman with your sofa and chairs for a perfectly appointed room. But have you ever considered pairing an ottoman with other tables in your living room or den instead?
Coordinating a coffee, end, or console table with ottoman models on the market today is a breeze. You'll find trendy choices that make even the most reluctant interior decorator a surprising success.
Look at brands like Coaster and Simmons for intelligently designed coffee table ottomans and bring resourcefulness home. Remember to weigh rectangular or square versus round coffee table ottoman models that best fit all your expectations.
Still looking for a regular ottoman? You'll have no trouble finding a straightforward ottoman that pairs with your console table, nesting tables, or coffee table. Stay organized with a storage ottoman. Or get the personal footrest that makes the difference at the end of a long day.