Home -> Home Bars -> Home Bars Buying Guide


Home Bars Buying Guide
Get the Ultimate Home Bar – No Renovations!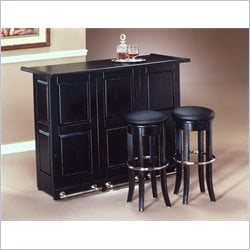 Did you know that a home bar could be just a few clicks away? If you've enjoyed the atmosphere of a friend or family member's home bar, you already know how stylish and fun they can be. Now, adding the entertainment value of bar-style space to your basement, den, or media room can be a simple as purchasing bar furniture.
Choose a folding bar, and you'll have commercial-looking storage shelves and drawers to keep you mixing all night. If you don't want costly renovations – or you might be moving in the next few years – think about a home bar from trusted brands like Home Styles or Berkline Family.
Home Bars You Can Afford
Have you been thinking about costly renovations, but it's just the price tag holding you back? Take a look at a folding bar. You can entertain friends or enjoy a casual cocktail with your spouse, feeling like you've escaped the everyday routine. Worried that a bar might not look right in your home? You might be surprised by the selection of bar furniture today.
Consider whether you want furniture made from a particular type of wood or metal. While black and cherry wood are traditional bar colors, you'll also find a selection of metal frame bar furniture. If you've evaluated your space correctly, adding a bar can be a classy accent to any living space.
Will you get attached to your bar? If you'll want your cocktail serving space to come with you when you move, choose a folding bar that works great if you're a renter or a mobile professional who needs to relocate from time to time.
Are you concerned about shipping charges when gauging what you might be willing to spend on a home bar? As a large piece of furniture, possibly several pieces if you order a barstool set or other bar chairs, you might expect freight charges. You'll be pleased to discover that many pieces or sets of bar furniture come with free shipping when you shop online.
A Folding Bar for Your Tight Space
Home bars that can telescope and fold are the most space-savvy choice for small apartments and vacation homes where room is limited. Look for a folding bar that incorporates side shelves that slide in and a top table that folds down.
Many folding bar designs incorporate sliding panels, but others swing open, much like a presentation or jewelry box. If there is room to do so, leave your bar open unless you need to move it. Or if your living space has competing demands, fold it up while not in use and simply have a lamp or prominent photo on the pedestal-shaped compact version of your bar.
Having a folding bar is also a great choice at moving time. Not only is your home bar portable, but it will compress and fit in to a tight corner in a truck or van. You'll be able to justify a bit more furniture, even if you move regularly. When you can take your home bar along to the next town, making friends will be a simple matter of inviting the neighbors over