Named one of the "Best Buys" in Flat Panel TV Mounts and Stands by Consumers Digest Magazine!
The BDI Avion II Triple-wide enclosed cabinet TV Stand is a three compartment wide home theater cabinet with integrated center channel speaker and media storage.
The center drawer can be used as storage or for a center channel speaker and makes this the perfect base for a mid-sized entertainment center.
Features:
Constructed of Engineered wood
Low profile top shows a much thinner, sleeker profile above the doors.
Linear handles with Center to center hole so that other handles can be substituted if desired by the consumer.
No Holes in the Top. As the new Arena Flat Panel Mount attaches from the rear of the cabinet, no holes are necessary in the top panel.
Each Avion has two legs and a pair of beams for a cleaner, sleek look. The legs and beams are handcrafted from stainless steel. The stainless steel features a durable satin finish and provides for a rock solid cabinet structure.
Large grey-tinted tempered glass windows allow for more efficient use of IR Remotes.
Larger speaker grilles enhance the performance of center channel or satellite speakers.
Large diameter wheels minimize rolling resistance on thick or heavily padded carpeting
Contemporary design

Soft-close Hinges with the addition of an integrated slow close mechanism. This provides for superior dampening of the door and prevents slamming.
Large open cable management
Deep Drawer holding a 7.6" tall speaker (An 8.25" tall speaker will fit in the slot with the drawer removed)
Cables route out the drawer back to simplify connections. Cable connectors are delivered automatically to back access hole during installation.
A lower divider and back allow much easier access to back row of DVDs and drawer divider is screwed into place from the side so that it won't pull up.
All back panels are now finished in black, which allows components to disappear (as most components are also black)
Arena Mount Compatibility: The new Arena Flat Panel Mount is a major upgrade to Avion Series II and our other applicable cabinets. See the following section.
Dimensions: 65" W x 22.5 "H x 22" D
Ships assembled
September 2009 - The BDI Avion Series (models 8937 and 8927) had been recognized as best buys in the Flat Panel TV Mounts and Stands division by Consumers Digest magazine in their October 2009 issue.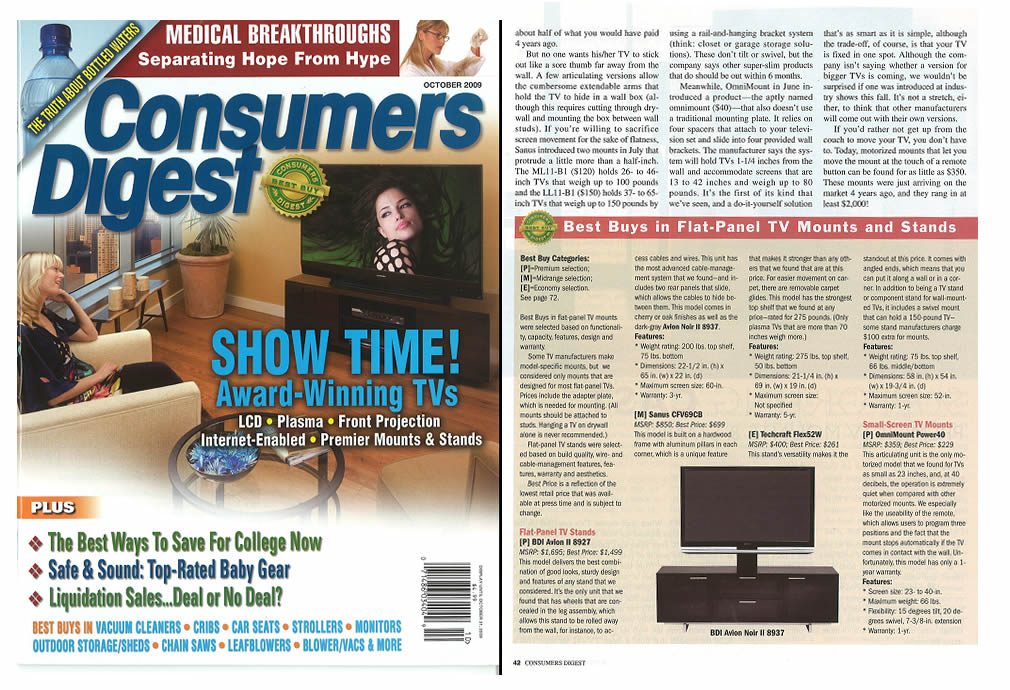 Excerpt taken from page 42 following:
"This model delivers the best combination of good looks, sturdy design, and features of any stand that we considered. It's the only unit that we found that has wheels that are concealed in the leg assembly, which allows this stand to be rolled away from the wall, for instance, to access cables and wires. This unit has the most advanced cable-management system that we found - and includes two rear panels that slide, which allows the cables to hide between them..."