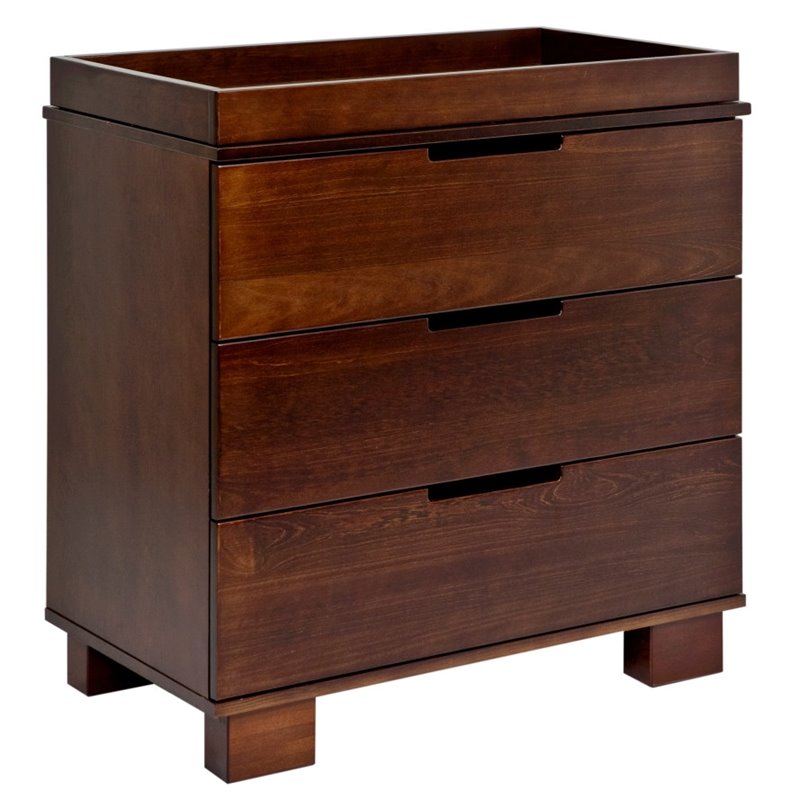 BabyLetto 3 Drawer Wood Changing Table
As you add pieces of furniture to your nursery, you might be finding that cost – and space – is starting to affect your choices. Between your crib and mobile, rocker and book case, wall art and shelves, you might be feeling downright crowded. But you still need a baby changing station. We know; it's easy to put off. Who wants to think about dirty diapers especially when the nursery looks perfect already. But maybe it's time to think about a baby changing table that can do double-duty and provide you with extra storage for diapers, clothes, and linen.
New or Converted Changing Station?
If you already have a dresser lined up for your baby's nursery, you have the option to add a changing table tray over top. You'll lose the display space on top of the dresser, but in a small nursery, this could be an easy choice. Measure carefully before purchasing a tray as you'll want even contact over as much surface area as possible. With the right fit between your tray and dresser, you'll be changing baby safely while saving space.
If you don't have either a dresser or changing table, you have the option to invest in a convertible baby changing station that has a detachable tray. The design is similar to converting a dresser, but provides the combination of both tray and dresser upon purchase. Take your planning one step further and coordinate your convertible dresser with a convertible crib and you'll have furniture that grows with your child for years.
Changing Table Styles
For totally spacious nurseries, the changing table could stand alone, storing only diapers and wipes, totally separate from clothing drawers. In that case, you'll be free to shop almost exclusively for style.
For earthy or vintage-inspired nurseries, create the look of a rattan changing table by incorporating coordinated rattan baskets. Have you created an elegant, yet minimalist nursery? Think about the classic simplicity of a Mission style changing table. Whichever style you choose, look for something sturdy. Keep in mind that this table will need to support the weight of your child, not just as a newborn, but as he or she grows for the next couple of years.
Changing Tables on a Budget
Several simple styles of wood frame changing tables are a great choice for budget shoppers as well. If space isn't a problem, but an affordable price tag is your top priority, you'll still have finishes like white, oak, ebony, and cherry. Depending on your other nursery furniture, a simple wood changing table could be all you need.
These more basic changing table styles may still have shelves for storage. Remember that unless your table already comes with a changing pad, you'll need to purchase that separately. Look for changing tables that include everything you need to get the most value from your purchase.
With the right changing station for your style, space, and budget, you'll complete your nursery with a smile. Your mood might change when the diaper does, but it'll be as smooth as can be once you're organized. At Cymax, there is a great selection of changing tables.